Light snow returns to Vail Valley, but Eagle County resorts still waiting for the big one
Snow has finally made a return to the Vail Valley after a mostly quiet couple of weeks. Both Vail and Beaver Creek reported a mere one inch new this morning, but it's snowing lightly as of 9 a.m., and a few more inches are in the forecast for today and Sunday night.
Vail opened the Riva Bahn Express (Chair 6) and Northwoods Express (Chair 11) today, meaning all three main access portals on the front side of Vail are now open for business. After a promising month of October and good early snow in November, the last couple of weeks have been relatively high and dry in the Vail Valley.
But temperatures have remained cold, allowing snowmaking crews to work hard and steadily open some quality cruising terrain. A lot more natural snow, however, will be needed to open up the Back Bowls.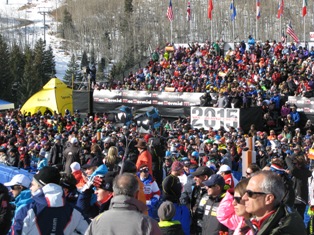 The most recent storms have dumped on Front Range resorts like Eldora, with Denver and the foothills receiving far more snow than Eagle and Summit counties. Southern resorts like Wolf Creek also have been winners (11 inches new this morning).
Still, it's only early December, and one or two big storms can turn things around quickly before the holidays.
"Thanks to the incredible efforts of all our mountain operations teams, we are continuing to make progress in opening up as much terrain as possible for the early season," Paul Fillion, senior director of Vail Mountain operations, said in a release.
Vail now has 700 acres of skiable terrain open, served by Avanti Express (Chair 2), Mountaintop Express (Chair 4), Riva Bahn Express (Chair 6), Born Free Express (Chair 8), Northwoods Express (Chair 11), Gopher Hill (Chair 12), Little Eagle Lift (Chair 15), Vista Bahn Express (Chair 16), Eagle Bahn Gondola (No. 19), and Cascade Village (Chair 20).
Also, Bwana terrain park opened today with about 12 beginner/intermediate-level features and three small jumps. There are also still small and medium terrain park features on Born Free.
Last year, a record at Vail with 525 inches of snow, much more terrain was open at this point of the season. But the abundance of early snow actually forced the cancellation of the Birds of Prey World Cup downhill. This season it went off without a hitch at Beaver Creek on Friday.
Much more
World Cup action is scheduled
for this weekend and next week after races were cancelled in Val d'Isere, France, because of an utter lack of snow in Europe. So Vail is still doing a lot better on the snow front than the legendary resorts in the Alps.
---

0 Comments on "Light snow returns to Vail Valley, but Eagle County resorts still waiting for the big one"
Be the first to comment below.