Vonn skips Aspen slalom as Eagle-Vail's Shiffrin takes 8th
Miller 9th again at Lake Louise
Lindsey Vonn took the day off to rest her sore back in today's World Cup slalom in Aspen, but another Vail Valley racer stepped up to fill the void, as Eagle-Vail's Mikaela Shiffrin, 16, finished 8th in just her fourth World Cup start.
Austrian slalom standout Marlies Schild claimed the win, with Sweden's Maria Pietilae-Holmner in second and defending overall World Cup champion Maria Hoefl-Riesch, of Germany, in third.
Squaw Valley's Julia Mancuso, third in Saturday's giant slalom in Aspen, just missed a second run, finishing 31st in the first run. No other American was fast enough for a second run, including Vail's Sarah Schleper. But Shiffrin represented well.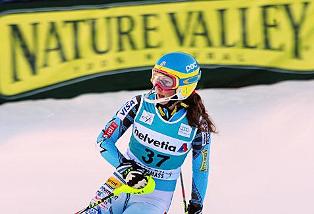 "All I can say is this is unreal," Shiffrin said. "I'll for sure be excited for the next five months, but it's also probably going to take five years to even realize that I'm racing World Cup."
Shiffrin has studied other Vail racers like Vonn and Schleper.
"I've been watching all these athletes studiously to try and figure out how I can get to their level. I know that will never change," she said. "This is a great accomplishment, but I still have a long ways to go. I'll try to keep things grounded and keep moving forward."
This was the first time Shiffrin has made it to the second run in either a World Cup slalom or GS.
"I always feel like I can handle more speed and then I wonder why I didn't, but that's how ski racing is. As long as I have that feeling that I can handle more speed and go a little bit faster, then I know that I'm in a good place."
Now she's eyeing her first podium.
"I always want to win, but it's going to take a long time for that. If I had any expectations for today, then this far exceeded them."
Vonn tweaked her back in training last Friday and finished a disappointing 12th in Saturday's GS. She decided to skip the slalom to rest up for her best events – downhill and super-G – this coming weekend in Lake Louise, Alberta, where she has dominated during her record-breaking career.
The
Denver Post late today
reported Vonn is seeking a divorce from her former ski-racing husband and coach Thomas Vonn. She reportedly provided the paper with a comment expressing "great sadness." Lindsey Vonn leaves Colorado Monday for Lake Louise.
The men's World Cup circuit was in Lake Louise this weekend, with Bode Miller duplicating his 9th-place finish in Saturday's downhill with the same result in today's super-G.
Norway's Aksel Lund-Svindal won today's super-G, with Saturday's downhill winner, Didier Cuche of Switzerland, second.
Marco Sullivan, of Squaw Valley, Calif., was 17th; Tommy Ford, of Bend, Ore., was 22nd; Travis Ganong, of Squaw Valley, was 28th; and Andrew Weibrecht, Lake Placid, N.Y., was 30th.
The men now come to Beaver Creek for this week's Audi Birds of Prey World Cup, which includes a downhill Friday, super-G on Saturday and a giant slalom on Sunday.
---

0 Comments on "Vonn skips Aspen slalom as Eagle-Vail's Shiffrin takes 8th"
Be the first to comment below.