Officials from Vail to Aspen await decision on USA Pro Cycling Challenge host cities for 2012
Despite the snow collecting on ski area slopes, many leaders in Colorado mountain towns have biking on the brain.
The USA Pro Cycling Challenge is expected to name its roster of host cities by the end of this month. Eleven cities hosted the inaugural race in August, including Vail, Avon and Aspen, which hosted the "Queen Stage" of the 518-mile odyssey through Colorado's historic places and breathtaking high mountain passes.
The Vail Valley Foundation is working to make sure the event returns for the Vail Time Trial, which ended on Vail Pass and was critical in this year's outcome. They also would like to see Avon incorporated again, although perhaps in some way that includes the nearby resort of Beaver Creek.
Avon had a crowd of 7,500 for the kickoff of a stage that traveled up to Steamboat Springs. Vail Valley Foundation officials said lodging occupation was up in both Avon and Vail during the inaugural event. Plus, much of the race was viewed on television in 161 countries, with NBC bidding to once again cover next year's event in the United States.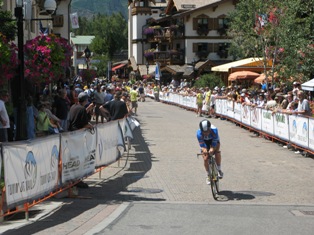 Event organizers have said there is only one certainty for next year's race: Denver, where crowds of 250,000 watched the final stage, will be the finish. They also would like to see a mountain-top finish and have indicated Independence Pass is an iconic location that should receive serious consideration for a return engagement.
Aspen is bidding to host the event again, along with co-applicant Pitkin County. The event was wildly popular across the state and in Aspen, which boasts a passionate cycling contingent as well as Tour de France legend and part-time resident Lance Armstrong, who started the USA Pro Cycling Challenge. A survey of Aspen businesses showed 95 percent of respondents supported the race's return to the city.
Organizers of the USA Pro Cycling Challenge reported the weeklong bicycle race attracted more than 1 million spectators and brought $83.5 million to Colorado. Cycling fans spent more than $67 million on lodging, food, transportation and entertainment, according to an economic impact study conducted by a global sports research firm. Despite all the cash flying around, Aspen officials say they ultimately lost a little money hosting and providing support for the event. Even so, they want the race to come back.
They are not alone. Cycling fever was contagious at the other host cities for the 2011 event — Avon, Breckenridge, Crested Butte, Colorado Springs, Denver, Golden, Gunnison, Salida, Steamboat Springs and Vail — and Colorado cities that were either snubbed or didn't apply this year are making strong cases as to why the race ought to roll through locales like Boulder, Durango and Grand Junction.
It's no wonder why. Aside from the direct spending spurred by the USA Pro Cycling Challenge's spectators, sponsoring businesses and media, extensive TV coverage can stimulate tourism for the state as viewers are taken through a tour of its landscape along with race announcers' glowing commentary. An international audience of more than 150 countries and territories watched American Levi Leipheimer win the inaugural competition in August.
The 2012 race is scheduled for Aug. 20-26.
Check out this year's Aspen finish and awards ceremony in these videos shot by Marek Michejda:
This story first appeared on Inspirato.
Follow Troy Hooper on Twitter

---

211 Comments on "Officials from Vail to Aspen await decision on USA Pro Cycling Challenge host cities for 2012"