At long last, ski area summer activity bill signed into law by Obama
U.S. Sen. Mark Udall is overjoyed now that President Obama has signed into law a bill authorizing summer and year-round activities at ski areas on national forest land. You might even say he's stoked.
"After five years of
pushing this through Congress
, I am ecstatic that my bill has finally been signed into law," Udall said Monday. "It's a sign that, even after the contentious year we've had in Washington, we can still come together to pass a common-sense fix for communities around the country. It's not just the local outdoor enthusiasts who benefit from this change; more recreational opportunities are a bigger draw for tourists, who spur economic development in our mountain areas and inject much-needed revenue during slower months and otherwise-tight times. I'll keep working with the Forest Service and Colorado ski areas to help implement the new law in a way that makes sense for our communities."
The bill cleans up language written in the National Forest Ski Area Permit Act of 1986 in order for resorts operating on federal land to receive permits for activities other than alpine and Nordic skiing. The bill is designed to enhance mountain economies by spurring the expansion of bike trails, Frisbee golf courses, zip lines, rope courses, alpine slides and more. Those activities already take place on public and private land at many ski resorts but the Ski Area Recreational Opportunity Enhancement Act, as it is called, is widely expected to make the process less cumbersome. Officials say the bill will impact as many as 13 states and 22 of Colorado's 26 ski resorts.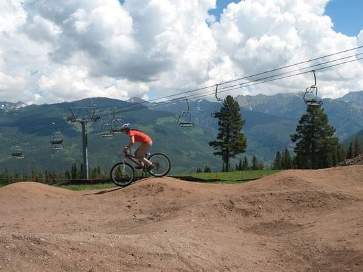 While festivals and outdoor recreation already attract large crowds to many of America's ski resorts in the summer, executives such as Rob Katz, chairman and chief executive officer of Vail Resorts, say Udall's bill will "add new jobs during the summer and will help increase employment in rural mountain communities across the country." He called the bill "a major milestone" that will be felt industry-wide.
Even though Colorado's ski resorts are wildly popular in the summer, they aren't without their critics.
Last month, Marian Lyman Kirst, an intern for High Country News, wrote about her disappointment with the summer vibes she found in Aspen, Crested Butte and Vail compared to those at ski resorts in Montana, from where she came. She titled her blog "Colorado ski town zombification."
"What I didn't expect were the townspeople's walking-dead demeanor. They didn't want to eat my brains, exactly, but they sure mumbled and shuffled around a lot," she wrote on the High Country News website. "What really enraged me, though, (particularly as a fisherman) was my experience at a Crested Butte fly-shop. I went in to buy some hoppers and a license and left appalled. The shop's two flunkies reeked of weed, looked — for lack of a better word — sticky, and were too stoned to operate the license machine. … Aspen was no better … We walked through Aspen's downtown to take in the 'sights' and get some Italian food at a restaurant our hotel's concierge recommended. Our waiter was a less sticky-looking version of the fly-shop flunkies: red-eyed, monotone and hugely indifferent. ... Places like Aspen and Vail can make summer tourists feel like hapless intruders attempting to rouse a hibernating ski bum from his dreams of powder days and high-speed quads."
Udall's bill doesn't address "sticky" customer service; he's just glad the bill finally stuck. Udall first introduced legislation to breath more summer life into ski resorts when he was a member of the U.S. House in 2008. He floated the idea again in the Senate but it was dragged down in partisan bickering.
This year the bill moved through Congress with bipartisan sponsorship and zero opposition.
---

10 Comments on "At long last, ski area summer activity bill signed into law by Obama"