Winter weather returns this week as two more ski areas open for the season
Copper Mountain, Keystone to join Arapahoe Basin, Loveland, Wolf Creek
Two more Colorado ski resorts – Copper Mountain and Keystone -- join the 2011-12 ski season fray this week, and snow riders will likely be greeted with winter weather as the lifts crank up for opening days on Friday.
Forecasters are calling for another mid-week blast of snow, followed by a second storm Friday night. This week's unsettled weather comes after a warm, dry spell late last week and through the weekend.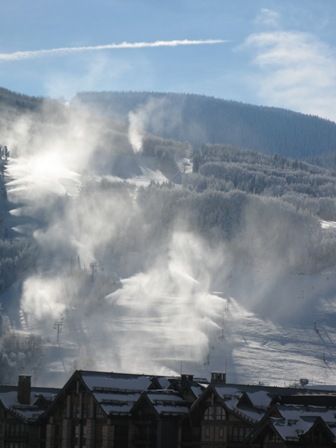 Last week a significant winter storm passed through the Vail Valley on Wednesday, dumping more than a foot of snow and giving snowmaking crews at Beaver Creek and Vail a major boost. That storm was enough to allow Keystone to promise a top-to-bottom run on opening day Friday.
Loveland Ski Area was the big winner in last week's snow lottery, reporting 20 inches. Arapahoe Basin – the other resort in the north-central mountains current open for the season – received a foot new.
The Colorado Powder Forecast, which becomes www.opensnow.com on Tuesday, is calling for 4-7 inches Tuesday night at both A-Basin and Loveland, with another 1-2 inches Wednesday morning. The snow is supposed to start around sunset Tuesday. Then CPF is calling for another 4-8 inches Friday night into Saturday, with the possibility of yet another storm early next week.
Wolf Creek Ski Area, which is only open on weekends, is only supposed to get 2-4 inches from Tuesday night's storm, as the system tracks more to the north.
U.S. Ski Team athletes are scheduled to start training at Vail's Golden Peak training facility on Wednesday. Vail opens to the public two weeks from Friday on Nov. 18. Beaver Creek opens on Wednesday, Nov. 23.
---

0 Comments on "Winter weather returns this week as two more ski areas open for the season"
Be the first to comment below.