'Underdog' Pace touts record-setting fundraising push in 3rd Congressional District race
Sal Pace, the Democratic candidate for the 3rd Congressional District, on Thursday announced that his campaign has raised $165,000 during the most recent fundraising quarter that concluded at the end of September.
While acknowledging that unseating the incumbent will be a challenge, Pace, the minority leader of the Colorado House, said he has raised more in his first full fundraising quarter than U.S. Rep. Scott Tipton did in the last complete quarter. After soliciting $147,184 for his re-election from April through June, the Washington Post slammed Tipton, a Republican freshman, as a "vulnerable" fundraising "loser."
"It is evident, even in these troubled economic times, that residents of the district want a congressman who will implement common sense and practical solutions that will bring jobs back to our communities and help turn around the economy," Pace said in a statement. "I understand I am the underdog in this race, but our grassroots support demonstrates that our campaign is gaining traction every day."
Since announcing his campaign on June 1, Pace has raised more than $250,000, which his team said is the most ever raised by a non-incumbent in the 3rd Congressional District during the 12 months prior to an election year. More than 1,200 individual donors have contributed to Pace's campaign.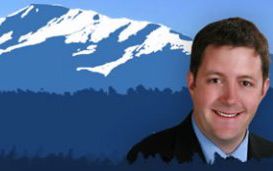 In the year prior to winning the seat, Tipton, in comparison, raised $109,981 during all of 2009.
Joanna Burgos, a spokeswoman for the Republican National Congressional Committee, dismissed the numbers.
"If only Sal Pace actually put his words into action maybe he'd have a fighting chance, but voters in Colorado know that he'll just raise more taxes and destroy more jobs," Burgos told The Colorado Independent in an email interview this morning. "Also, I notice that Pace is comparing his off-year number with Tipton's off-year number last year. That's not exactly a just comparison since Scott didn't enter the race until November of 2009 so had probably a month worth of fundraising in 2009 with the holidays and all. Pace got in in May, so he's got two quarters under his belt at this time."
Tipton's fundraising totals for the most recent quarter have not been reported yet.
The 3rd Congressional district encompasses most of the state's Western Slope, including Aspen and many other Colorado ski towns as well as the cities of Durango, Grand Junction and Pueblo. Vail and surrounding Eagle County are not in the district.
---

103 Comments on "'Underdog' Pace touts record-setting fundraising push in 3rd Congressional District race"