Groups push to maintain wildlife, environmental protections in border areas
Wildlife, it turns out, isn't too savvy about political borders – whether those borders divide countries or states. Deer and elk don't do maps.
Sportsmen and conservation groups pointed that out in different ways this week when they protested a bill that would strip away environmental protections within 100 miles of U.S. borders. In a separate action, groups also urged greater regulatory cooperation in managing roadless lands that straddle state borders.
"Today's action is part of a disturbing trend to recast anti-environmental bills that would never pass on their own merit as solutions to the nation's hot-button issues," Jane Danowitz of the
Pew Environment Group
said on Wednesday following the 26-17 passage by the House Natural Resources Committee of
H.R. 1505, the National Security and Federal Lands Protection Act.
Sponsored by Rep. Rob Bishop, R-Utah, in April, the bill is co-sponsored by Colorado Republican Reps. Mike Coffman and Doug Lamborn.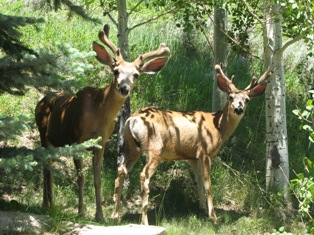 The bill, according to Pew, would waive 36 environmental and other laws for U.S. Customs and Border Patrol officials on public lands within 100 miles of U.S. borders. The bill now heads to the House floor for a full vote.
"The bill's reach is unprecedented," Danowitz said. "It would allow a single federal agency [Homeland Security] the authority to waive clean air and water laws, as well as those that protect parks and other public lands. It would leave Congress and the public without a voice, even though at stake are hundreds of popular destinations including Glacier and Big Bend National Parks, the Great Lakes, and Boundary Waters Wilderness."
Also on Wednesday, the Theodore Roosevelt Conservation Partnership – a coalition of sportsmen's and conservation groups – unveiled a new report called "Backcountry Borderlands (pdf)."
The analysis highlights the need for more coordinated federal and state management of national forest roadless areas that straddle state lines. The report offers case studies that include: elk herds on the Colorado-Wyoming border, fisheries on the Oregon-Washington line, and mule deer and elk in the mountains between Arizona and New Mexico.
"Sportsmen know that national forest roadless areas provide some the best fish and wildlife habitat and hunting and fishing available on public lands," said Joel Webster, director of the TRCP Center for Western Lands. "Thousands of us enjoy the benefits provided by backcountry areas that border state boundaries."
Deer and elk herds along the Colorado-Wyoming line have been decimated by oil and gas drilling activity. A National Wildlife Federation study in July underscored the need to better mitigate the impacts of energy extraction.
Sportsmen's groups also have been working to prevent the passage of the Wilderness and Roadless Area Release Act, which would override the Colorado Roadless Rule as well as a 2001 national roadless rule that's been held up since then by litigation.
---

117 Comments on "Groups push to maintain wildlife, environmental protections in border areas"