Dems look to link Colorado GOP congressman to Koch Industries Iran report
The Democratic Congressional Campaign Committee wasted little time linking at least one Colorado congressman to Monday's damning
Bloomberg Markets Magazine
report on Koch Industries.
Hours after Bloomberg published an investigative piece enumerating a pattern of dubious business practices at Koch Industries, a spokesman for the Democratic Congressional Campaign Committee blasted U.S. Rep. Cory Gardner, R- Colo., for accepting over $300,000 in campaign contributions from the energy giant.
"Representative Cory Gardner's career in Congress is propped up by the most radical interests in the country who profit off business with the Iranian regime known for their sponsorship of terrorism and calls of 'death to America,'" Jesse Ferguson of the Democratic Congressional Campaign Committee said in a statement sent to Colorado media outlets. "These are the same controversial Koch brothers who bankroll right-wing candidates like Representative Cory Gardner and are pushing an extreme ideological agenda that hurts the middle class and seniors while protecting their own tax break for Big Oil. Will Representative Cory Gardner continue to welcome the support from Koch Industries in light of the new investigation showing the companies profited by doing businesses with state sponsors of terrorism or is he finally ready to start rejecting it?"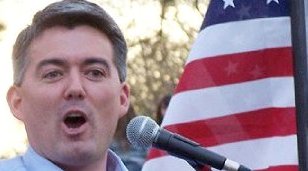 Rachel Boxer, spokeswoman for Gardner, told The Colorado Independent
on Tuesday morning that her office would review the DCCC statement and formulate a response. She did not return messages left for her later in the day.
Koch Industries is a Kansas-based energy conglomerate run by two of the world's richest men, Charles and David Koch, who generously give to conservative causes and hold secret strategy sessions in Colorado, where they own vacation homes. At a private confab near Beaver Creek attended by a bevy of billionaires this summer, Charles Koch compared President Obama to Saddam Hussein and warned that the 2012 elections would be "the mother of all wars" between America's partisan left and right.
Bloomberg Markets Magazine's report, authored by Asjylyn and David Evans, detailed allegations that a French subsidiary of Koch Industries paid bribes to win contracts in six countries and that one of the energy juggernaut's European units sold millions of dollars of petro-equipment to Iran until 2007. Bloomberg cited a previously unpublished letter from a civil court filing from 2010 in which Koch Industries said an internal investigation found the alleged bribes "constitute violations of criminal law." The article detailed a number of instances in which Koch Industries was convicted of rigging prices with competitors, lying to regulators and repeatedly running afoul of environmental regulations.
Koch Industries general counsel Mark Holden, however, is working to discredit the Bloomberg report, asserting that it is rife with errors and unfairly distorts the facts.

"Bloomberg's substandard reporting contains major inaccuracies," he wrote on a company website, KochFacts.com. "They relied heavily on unreliable sources despite our warnings and the documented evidence we gave them that these sources were misrepresenting the facts. In addition, the article grossly distorts the publicly available French court's rulings. The result misrepresents and maligns an entrepreneurial company that has a strong environmental and safety record, and which has prohibited all trading with Iran, a policy that is stricter than U.S. law."
Koch Industries spends millions each year underwriting lobbying and campaigns. Last year, all but about $140,000 of its $1.7 million in contributions went to Republicans, according to the Center for Responsive Politics. In addition to Gardner, the energy conglomerate contributed smaller sums to two other active Colorado Republicans, Reps. Doug Lamborn and Scott Tipton, in the 2010 election cycle and it has again backed Lamborn for 2012.
Follow Troy Hooper on Twitter
---

131 Comments on "Dems look to link Colorado GOP congressman to Koch Industries Iran report"