Uranium mining, milling projects across Colorado keep running into water issues
Water issues continue to dog uranium mining and milling operations around the state, with regulators losing patience with one company on Colorado's Front Range and Colorado River officials still raising objections to a proposed mill in Montrose County.
Denver Water officials Monday demanded Cotter Corp., a subsidiary of General Atomics, clean up the defunct Schwartzwalder Mine near Golden that state officials say is leaking uranium into a creek that flows into a Denver drinking water reservoir,
according to the Denver Post
.
Cotter, which is also on the hook for an EPA Superfund cleanup near its shuttered mill in Cañon City, has been under state pressure to clean up the Schwartzwalder situation since the spring of last year. The company sued the state for "abusing its discretion" in ordering the cleanup.
The Post reports state officials on Monday said that a $1.2 million bond posted by Cotter for Schwartzwalder is inadequate to deal with the situation. Officials have been huddling with Colorado Attorney General John Suthers' office to discuss next steps.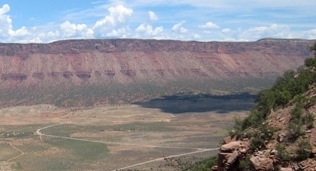 The Cotter Mill has been held up by opponents of a proposed uranium mill in Montrose County as an example of what can and likely will go wrong with such an operation. But the Canadian company proposing that mill, Energy Fuels, counters that technological improvements make the Piñon Ridge Uranium Mill a much safer proposal.
Still, Cotter continues to draw heat for its cleanup efforts in Cañon City, including questions this summer about using wooden pallets to cross holding ponds.
Energy Fuels, on the other hand, promises state-of-the art technology and a facility that will create jobs in western Colorado and better position the state to take advantage of a renewed surge of interest in nuclear energy.
Now the company is singing the praises of a deal worked out with the Telluride-based environmental group Sheep Mountain Alliance, which late last month "agreed to withdraw its objections regarding water use in exchange for the mining company's adherence to certain environmental and water supply provisions," according to the Telluride Daily Planet.
However, the group's executive director, Hilary White, told the paper: "The agreement requires Energy Fuels to obtain all necessary conditions including water from McPhee Reservoir to mitigate impacts from withdrawing groundwater in the Paradox Valley. However, it remains to be seen whether or not Energy Fuels is able to purchase Dolores Project Water and satisfy conditions of [Colorado Water Conservation Board] — the remaining objector."
Water, or the lack thereof in Colorado, remains the biggest hurdle to either a uranium mining or nuclear power renaissance in the state.
---

172 Comments on "Uranium mining, milling projects across Colorado keep running into water issues"