Bennet, Udall reintroduce San Juan Wilderness Act, but groups still working to get Tipton's support
A proposal to designate more than 60,000 acres in southwestern Colorado as either wilderness or a special management area is back before Congress.
U.S. Sens. Mark Udall and Michael Bennet are reintroducing the San Juan Mountains Wilderness Act, which enjoys support from all three affected counties — San Miguel, San Juan and Ouray — and most stakeholders. Udall and Bennet previously introduced the bill in 2009 along with companion legislation from then U.S. Rep. John Salazar, but it didn't gain enough traction to become law.
"Unfortunately Congress failed to pass any wilderness bills last session," the Telluride-based Sheep Mountain Alliance said in a statement posted on its website. "While we will continue to work with the senators to help this bill through committee, we also need to continue to educate (Salazar's successor) Congressman (Scott) Tipton on the merits of this broadly supported land conservation proposal."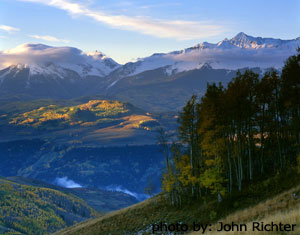 Tipton is hosting a "listening session" for the proposal this Friday at Ridgway Town Hall.
The bill would designate 33,000 acres as wilderness — mostly as expansions of the existing Lizard Head and Mount Sneffels wilderness areas — in addition to adding mid-elevation lands to the system with a new area around 7,933-foot McKenna Peak, where imposing sandstone cliffs jut out of the plain.
The San Juan Mountains Wilderness Act would also designate about 22,000 acres as a special management area allowing some outdoor recreation activities such as hiking, hunting and fishing.
It would also withdraw over 6,000 acres within Naturita Canyon from oil and gas development.
"Not only will this bill ensure generations of Coloradans will be able to enjoy its stunning beauty, but it will also help create jobs and boost the economy of the entire area," Udall said. "Hikers, outfitters, hunters, anglers and others interested in wildlife and the outdoors will continue to be drawn to the area, sparking more hospitality and recreation-related business. Despite the down economy, outdoor recreation is a strong and growing sector of the economy — one we should nurture and that will benefit everyone in the state."
Preserving places of peaceful contemplation is an ethic the senator said he learned from his mother, Patricia "Sam" Udall. In his opening remarks at a National Parks Service subcommittee last week, Udall cracked a smile as he revealed that his mom was a member of the National Rifle Association.
"Many people are familiar with my father Congressman Mo Udall and my uncle Interior Secretary Stewart Udall and their work to promote conservation across the country. ... But in my passion for conservation I often generally think more about my mother and how she was the real conservationist in our family," Udall said. "She was a Coloradan, she raised six kids, she was a member, I found out later in life, of the NRA. She was a sharpshooter, a marksman, an angler and an equestrian as she encouraged my five brothers and sisters and me to get outside, to get dirt under our fingernails, to look at and also tackle the steepest climbs, to strap on our skis on the coldest days and on the coldest mountains."
The subcommittee Udall chaired heard from National Park Service Director Jonathan B. Jarvis, whose agency issued a new forward-looking report as it prepares to turn 100 years old in 2016.
There are 36 action items in "A Call to Action: Preparing for A Second Century of Stewardship and Engagement," which include an initiative to prevent lights from polluting the night sky around the Colorado Plateau; a program to enable 100,000 children a year to visit national parks; the overhaul of interpretive signs to provide more accurate information; and a goal of doubling, over 2009 levels, the amount of renewable energy generated within national parks and used by park facilities.
Rather than requesting new federal appropriations to reach its objectives, the National Park Service is looking to set up an endowment fund with a goal of generating $1 billion over the next 25 years.
"If you think about any other major institution in this country, whether it's the Smithsonian or Harvard, they have an endowment that allows them to carry forward their programs in times of austerity and it provides a point for giving from an extremely philanthropic American people," Jarvis said.
Sen. Rand Paul, R-Ky., sounded support for the endowment, even recommending a benefactor.
"Oh my goodness, you're not asking for more money. I love it," Paul said. "There's this guy I keep hearing about in the news who has a lot of money and feels under-taxed, Warren Buffet. You ought to talk to him."
---

793 Comments on "Bennet, Udall reintroduce San Juan Wilderness Act, but groups still working to get Tipton's support"