Squaw Valley, Alpine Meadows merger could give Tahoe advantage in Olympics derby with Denver
Denver-based KSL keeps making Squaw more attractive, investing $50 million
A Denver 2022 Winter Olympic bid may face a much stiffer challenge than the ongoing squabble between U.S. and international Olympic officials over revenue sharing. The Reno-Lake Tahoe region on the California-Nevada border suddenly became a lot more attractive.
Tahoe's Squaw Valley, the legendary ski area that hosted the Winter Games in 1960, announced on Monday that it's merging with adjacent Alpine Meadows, creating a ski complex encompassing 6,000 acres, which makes it larger than Vail.
The new Squaw Valley Ski Holdings LLC has no immediate plans to connect the two ski areas by chairlifts because of separate ownership of the connecting ridgeline, but Squaw Valley President and CEO Andy Wirth, a former Steamboat executive, says "that vision doesn't escape us," according to the Associated Press.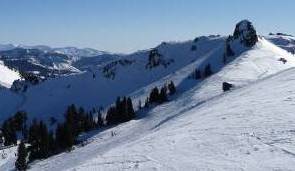 The move escalates the snow sports arms race in the Lake Tahoe region, where last year Broomfield, Colo.-based Vail Resorts bought Northstar-at-Tahoe to add to its massive Heavenly ski area in South Lake Tahoe. Vail Resorts recently signed Olympic and X Games gold medalist Shaun White to serve as a spokesman and train at Northstar.
Squaw Valley was bought late last year by Denver-based KSL Capital Partners, which is spending $50 million on the resort over the next five years.
The merger also increases domestic competition for the next available Winter Olympic Games in 2022. Denver Mayor Michael Hancock and Colorado Gov. John Hickenlooper last month expressed serious interest in going after those Games, but U.S. Olympic Committee (USOC) officials say they won't submit a bid until a revenue sharing dispute with the International Olympic Committee (IOC) is resolved. Colorado U.S. Sen. Michael Bennet earlier this month fired off a letter urging a quick resolution to that dispute.
USOC CEO Scott Blackmun, speaking in Colorado Springs recently, said it's high time for the United States to host another Olympic Games (the last time was Salt Lake City in 2002). Bid books for 2022 would be due in 2013, with the IOC set to make a decision in 2015. Colorado and Reno-Lake Tahoe are considered the two U.S. frontrunners.
"I think 20 years is long enough," Blackmun said, according to the Colorado Springs Gazette. "It's important that we host the Games in the United States as a way to keep Americans connected to the team … I don't think there are limitations on our ability to participate in a 2022 bid right now."
Tahoe may have an advantage in that it previously hosted the Winter Olympics in 1960 and did not reject the Games after being awarded them by IOC the way Denver voters did in the early 1970s.
California hosts the second most skier days per year in the United States, according to AP, at a little over 12 percent. Colorado is the most skied state in the nation at more than 20 percent of the skier days in the nation every year.
Even if the IOC does decide to submit a 2022 bid and Tahoe wins, Colorado connections would abound. Squaw Valley is owned by the Denver-based private equity firm KSL Capital Partners, a company founded by former Vail executives Mike Shannon and the late Larry Lichliter.
Vail and Beaver Creek would likely play a prominent role in any 2022 bid for Colorado, with work already under way to add a women's alpine skiing downhill course next to the existing Birds of Prey downhill course at Beaver Creek. All of the alpine skiing events for the 2015 World Alpine Ski Championships will be held in Beaver Creek, where the men's course has become one of the most famous on the World Cup circuit since it was built in 1997.
---

741 Comments on "Squaw Valley, Alpine Meadows merger could give Tahoe advantage in Olympics derby with Denver"