Critics say Tipton's hydro bill a washout for environmental regs
A hydropower bill that U.S. Rep. Scott Tipton introduced this month is intended to create clean energy jobs, but the director of the state chapter of
American Rivers
says the legislation badly misses the mark.
"I don't know how much it helps hydropower developers. More than anything, it's another example of Republican House members looking for any way they can to attack this nation's bedrock environmental laws and regulations, in this case NEPA (the National Environmental Policy Act)," Matt Rice, conservation director at American Rivers Colorado, said in a recent interview with The Colorado Independent.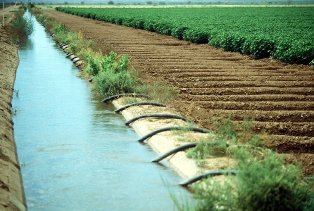 H.R. 2842 would provide blanket authorization for installation of small hydropower on all U.S. Bureau of Reclamation canals and conduits. It also would require the Bureau of Reclamation to offer preference to water user organizations for the development of such projects under a federal lease of power privilege. Further, the bill would exempt small canal and conduit projects of less than 1.5 megawatts from the environmental assessment requirements of the National Environmental Policy Act.
Waiving the powers of NEPA for small-scale hydro, in Rice's view, "actually creates an incentive for developers to deliberately build underpowered projects in order to avoid the environmental review."
Developers already can exempt low-impact hydropower projects through either the U.S. Bureau of Reclamation or the Federal Energy Regulatory Commission, opponents of the bill have noted.
In fact, that was the point Bureau of Reclamation Deputy Commissioner of Operations David Murillo made to the House Subcommittee on Water and Power last week. While the Bureau of Reclamation supports much of the bill's goals, it opposes exempting 1.5-megawatt projects from NEPA reviews.
"The department understands the intent of H.R. 2842 to be that conduits and canals are existing man-made structures where environmental impacts associated with construction have already occurred or been mitigated," he said. "However, the department's view is that low-impact hydropower, particularly in conduits and canals, can be efficiently developed by utilizing existing environmental review provisions that will not unduly delay project development and ensure environmental health and safety."
National Hydropower Association spokesman Matt Nocella said his organization has not taken a position on H.R. 2842 yet but is "currently evaluating and discussing it with our membership."
The bill, however, is galvanizing support from those who want to slash as much red tape as possible.
At last week's hearing, Robert Lynch testified on behalf of the Irrigation and Electrical Districts Association of Arizona and the National Water Resources Association, saying untapped water potential is typified by a Department of Energy report that found 1,400 megawatts of unused capacity in canals and ditches in Colorado where units of less than 5 megawatts could be installed. Lynch said the total of the small units is comparable to the 1,312-megawatts Glen Canyon Dam on the Colorado River.
"At a time when our country needs to focus on domestic energy production and job creation, hydropower can play a critical role in providing clean renewable energy while expanding job opportunities in rural America," Tipton said.
Detractors of Tipton's bill say the environmental reviews for small hydro projects by the Bureau of Reclamation aren't as onerous as some people have made them out to be, but Chris Treese of the Colorado River Conservation District and Family Farm Alliance maintains development uncertainties can get in the way of districts and developers making timely investment decisions.
"Environmental reviews under NEPA are universally time-consuming and expensive," Treese said. "Even 'just an Environmental Assessment' will require considerable time and expense. The river district's current experience with an EA on a non-construction action has taken over a year and nearly $1 million in outside expenses, not including substantial 'unbillable' district time and expense."
Still, given that exemptions already exist for low-impact projects and that proposed NEPA exclusions would not encourage efficient power output, Rice says there are better reforms on which to focus.
"It's not always clear whether the developer needs to apply for a FERC (Federal Energy Regulatory Commission) license or a Bureau of Reclamation lease of power purchase," Rice said. "While Reclamation and FERC have a memorandum of understanding, it's a case-by-case determination and, as we know, determinations take time so if they were to come up with a real clear process, that would be a lot more valuable way to more quickly develop Bureau of Reclamation hydropower projects."
One of the best existing programs for streamlining small-scale hydropower projects can be found in Tipton's home state of Colorado, Rice said.
A memorandum of understanding (PDF) between the state and FERC, enacted last year under former Gov. Bill Ritter, authorizes exemptions for conduits and projects under 5 megawatts that are added to existing infrastructure and meet the criteria clearly spelled out in a number of environmental safeguards.
"There already is a model," Rice said. "From our perspective, Colorado's program is the type we like."

---

2 Comments on "Critics say Tipton's hydro bill a washout for environmental regs"