Father of Chicago man missing near Holy Cross asks hunters, hikers to keep looking for signs of son
James Nelson disappeared Oct. 3 of last year
Hunters and hikers who are planning to hike in and around the Holy Cross Wilderness Area of the White River National Forest are asked to be on the lookout for evidence that may help authorities discover the fate of a Chicago man who has been missing since last fall.
On Oct. 3, 2010, 31-year-old James Nelson was dropped off at the Fall Creek trailhead at the start of a 25-mile hike into some of Colorado's most challenging terrain. His fiancée planned to pick him up at the trailhead the following Friday, but he failed to appear.
No trace of Nelson
was ever located, despite an intense four-day search with helicopters, search and rescue crews and trained dogs.
With Colorado's big-game rifle season just weeks away, Colorado Parks and Wildlife and the Vail Mountain Rescue Group are asking hunters who head into the area to be alert for discarded hiking equipment, an abandoned tent or possible human remains.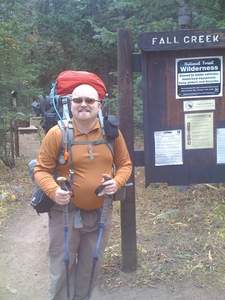 "Hunters head into off-trail areas that most hikers avoid," said Area Wildlife Manager Perry Will. "We're asking that they keep an eye peeled for evidence that could help bring closure to Mr. Nelson's family."
Dan Smith, of the Vail Mountain Rescue Group, said that trained search and rescue dogs appeared to pick up Nelson's scent off a trail near Lake Constantine on Nelson's planned route. A pair of hikers reported that they had seen a man matching Nelson's description on Oct. 3. Then he vanished.
"Even after the massive search, we did not find any of his hiking equipment, backpack, tent or his body," Smith said.
In recent years, hunters have helped solve several high-profile cases. In 2007, a Colorado hunter found the body of an Alzheimer's patient that had been missing for month, even after hundreds of people had searched for him. The hunter found the remains seven miles from the missing man's home in Cotopaxi.
Last year in Maine, a deer hunter discovered a missing two-year old girl who had been kidnapped and taken to a remote area by the suspect, her father. After recognizing the girl from television reports, the hunter rescued the little girl and convinced her father to turn himself in to authorities.
Although the search for Nelson is suspended, the Vail Mountain Rescue group and the Eagle County Sheriff's Office are prepared to follow up immediately on any new information they receive. If hunters find abandoned clothing, backpacking equipment, camp gear or what appears to be human remains, Smith says they should avoid touching or moving it. He recommends that they photograph it, mark the exact location - using GPS if available - and let the local Sheriff's office know as soon as possible by calling 911.
Nelson was the president of a Chicago area hiking club, and was known as an experienced hiker. His friends and family report that before he left on his trip, he was prepared and followed many of the recommended rules of hiking in the back country. He packed the necessary supplies and he was careful to let several people know where he was planning to hike by mapping his route, which would take him over several of the areas tallest peaks including one of Colorado's most well known "fourteeners", the rugged Mount of the Holy Cross.
Nelson, who went by the nickname "JB", wore a mustache and a goatee. He was last seen wearing an orange long-sleeve shirt, khaki slacks and brown hiking boots. He may have also been wearing wire-rimmed glasses or sunglasses, possibly a black or green jacket and rust-colored, knit stocking cap. His equipment included a red backpack, Diamond Back hiking poles, Asolo boots, Delorme NP-40 GPS unit and a grey and yellow single-person tent.
"He knew what he was doing, and we can only imagine that he had an accident of some kind," said his father, Jim Nelson. "We just ask people that if they see anything while hunting, or remember anything from last year, to please let us know."
To learn more about backcountry safety and "The Art of Survival," visit the Colorado Parks and Wildlife website at
http://wildlife.state.co.us/Hunting/PlanYourHunt/ResourcesTips/Pages/Survival.aspx
---

3 Comments on "Father of Chicago man missing near Holy Cross asks hunters, hikers to keep looking for signs of son"