Vail Valley state Rep. Scanlan eyes Speaker post but knows teacher-bill vote could hurt
State Rep. Christine Scanlan
, D-Dillon, a rising star on the Colorado political scene who represents the Vail Valley in the State Legislature, says any talk of her becoming the next Speaker of the House is pointless if Democrats can't hold onto their current 37-27 House majority in November.
"First is the majority, and it's going to be a tight year regardless and tough to keep the House," Scanlan said. "We're worried about Democrats in general, and that's the first priority. I actually don't know where I fit in the [Speaker] mix. I'd like to be in leadership. How that shakes out and what that means for my team … November is still pretty far away."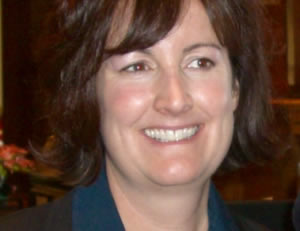 Republicans need to try to hold onto their 27 seats and flip six Democratic seats to regain a majority in the 65-member House. One seat is held by Independent Kathleen Curry, who switched her affiliation from Democrat last year and faces a tough write-in campaign after coming up short in a lawsuit against the Secretary of State.
Scanlan looks relatively safe in her mountainous district (HD 56), which includes Eagle, Summit and Lake counties, but she knows carrying controversial teacher tenure bill SB 191 – crafted in the Senate by Vail native Mike Johnston – could hurt her chances of succeeding outgoing Speaker Terrance Carroll.
"It was totally the right thing to do," Scanlan said. "I've been on the reform side of the education agenda for a number of years and I knew going in that this might have some real consequences for me on leadership in the House, but you don't often get the opportunity to carry legislation as meaningful as that, and that's personally what I felt so strongly about."
SB 191 reforms the way public school teachers and principals are evaluated and how they obtain and maintain tenure. It was bitterly opposed by teachers' unions and many Democrats and passed out of the House with just eight Democratic votes and support from Curry.
Scanlan said SD 191 may be a precursor to a possible statewide ballot question on education funding as early as next year. Several groups have been discussing such a ballot question, and Scanlan said she's spoken to representatives of different education groups who think it will be necessary given the ongoing budget crisis.
"I saw my bill frankly as a first step to that because I think voters are going to ask for that level of accountability before they sign up for further funding for schools," Scanlan said. "Then we need to figure out if it's not just K-12, but higher ed has no protected funding, so is there something we need to think about there?"
But first Scanlan must fend off Republican Debra Irvine, who, according to her campaign website, began her life as a professional fine art painter when she moved to Breckenridge five years ago. Chairwoman of the Summit County Republican Party for the past three years, Irvine has never held elected office in Colorado.
Irvine declined to comment for this story by phone, saying she prefers face-to-face interviews.
"I just don't like doing interviews on the phone," Irvine said, refusing to discuss her campaign platform, although she spells it out to some extent on her website and on this
YouTube video
. "I like interviews in person, and I think things aren't as simple as they seem. There's no black and white in my mind on anything."
Scanlan, Director of Development, Education, for the nonprofit Keystone Center, was appointed to the HD 56 seat late in 2007 when Democrat Dan Gibbs quit to take over state Senate District 16 for then-Senate President Joan Fitz-Gerald, who quit to run for the 2nd U.S. Congressional District seat ultimately won by Jared Polis.
Scanlan then won the HD 56 seat in the November 2008 general election, fighting off Beaver Creek filmmaker Ali Hasan in one of the most expensive State Legislature races of all time. In a bizarre and sometimes comical campaign, Hasan pulled out all the stops, spending more than $350,000 to win his home Eagle County by a scant margin. He lost Lake and Scanlan's home Summit County.
Now Irvine won't have that home-turf advantage over Scanlan in Summit, nor will she have the edge Hasan enjoyed in more populous Eagle County. She's apparently going to try to ride the Tea Party wave of disaffection with all things incumbent.
"It's kind of interesting that you start with she's a rising star and that she's entrenched," Irvine said of Scanlan, declining to elaborate. "I thought those are really kind of interesting words that you used."
Irvine's campaign manager is Tea Party activist and Summit County Republican Party Vice Chair Lisa Knobel.
Tea Party politics already played a major role in shaping the November ballot in Summit County, with Breckenridge resident and 5th Judicial District Attorney Mark Hurlbert being ambushed by Tea Partier Tim Leonard at the Republican assembly in May. Seeking the GOP nod for SD 16, Hurlbert then came up short in his bid to petition his way onto the ballot.
"Mark had the backing of [outgoing Senate Minority Leader] Josh Penry, which is no small thing to have that kind of influence behind you, and yet they had no control over what happened at the assembly," Scanlan observed.
"Honestly, the Tea Party doesn't talk to Democrats much, so I don't hear from those folks much, but they took Mark out of the race, who was an electable person, so I don't know where they go from here. I'm guessing the Republican leadership is reeling a bit with how to manage all of this."
Leonard will face Democratic Gilpin County Commissioner Jeanne Nicholson in a district comprised of parts of Summit, Clear Creek, Gilpin, Grand, Jefferson and Boulder counties.
---

54 Comments on "Vail Valley state Rep. Scanlan eyes Speaker post but knows teacher-bill vote could hurt"