18 SOS Outreach youths from Eagle County selected to go to London for 2012 Summer Olympics
Youth nonprofit SOS Outreach is proud to announce in partnership with the Global Sports Development (GSD) Playmakers program that it has selected 20 students to attend the 2012 London Olympics.
GSD is an organization dedicated to helping youth learn through sports. The organization's Playmakers program has been giving the next generation of youth leaders the opportunity to experience the Olympic Games since 2002. The trip will include sightseeing, meeting U.S. Olympic athletes, attending cultural events and of course, seeing the games.
After a selection process that included an entry essay, students from Denver, Eagle County, Summit County, Durango and Seattle were chosen for the trip.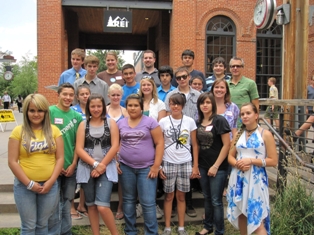 From Eagle County, the students are Joey Springer, Cristian Luna, Jesus Garcia, Kevin Rodriguez, Jennifer Rascon, Lorena Varela, Abigail Varela, Kelsey Bellm, Tessy Holguin, Jessinia Reyes, Megan Fregoso and Jonathan Cano.
From Summit County, the students are Jacob Patrick Brady, Mystic McFadden and Jack Cline. From Durango, the students are Sage Potter, Samantha Jones and Luke Sutherlin. In addition, Jacob Salazar of Seattle and Jackie Luevano of Denver will also be attending.
The students, all ages 13 to 17, have been involved in SOS' development programs for four-to-six years and have demonstrated excellent participation and leadership, said SOS trip coordinator Theresa Papandrea.
"This trip will provide the highest level of leadership training to youth within our programs. Such an experience will further develop a group of young leaders within the community," she said.
The group met for the first time in Denver last month to talk about the trip, expectations and meet other participants. This opportunity is made possible for SOS Outreach students by K2 Sports and its president, Robert Marcovitch.
"I know that SOS Outreach has terrific leadership, a balanced and organized staff, and knows the process of doing outreach. This partnership with Global Sports Development will give SOS kids a unique opportunity that I know they will grow and learn greatly from," Marcovitch said. "It is a unique honor and privilege for K2 Sports to provide this level of cultural experience to one of the best youth development non-profits in the U.S."
For more information to www.sosoutreach.org and www.globalsportsdevelopment.org
---

0 Comments on "18 SOS Outreach youths from Eagle County selected to go to London for 2012 Summer Olympics"
Be the first to comment below.