Italian artist creates unique trophies for Vail, Beaver Creek USA Pro Challenge stage winners
A one-of-a-kind Italian masterpiece will await the Vail and Beaver Creek USA Pro Challenge stage winners August 22 and 23 as Italian artist Carlo Trost has created a pair of original mixed media sculpture trophies to celebrate the victorious riders.
Each trophy features a cycling jersey that has been dipped in resin, sculpted while still wet and then painted. Once dry, the piece retains it sculpted shape and can be mounted as a piece of art on the winner's wall.
In addition to this unique trophy, Beaver Creek and Vail stage winners will also receive Vail/Beaver Creek lifetime ski passes.
"These sculptures are extremely unique and eye-catching," explained Marc Levarn, co-owner of the Vail International Gallery in Vail Village, "representing a playful and cerebral side of Carlo's work. We had a number of visitors to the gallery that were very intrigued with the pieces when they first arrived at the gallery."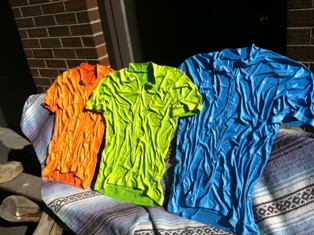 Born in Uruguay, Trost arrived in Udine, Italy at the age of four. After managing the family business for ten years, he decided to take a sabbatical, returning to a childhood project by setting up a small artistic furniture design and production business.
Thus began a creative path that would lead him to the realization of his first painting in 2001. The first exhibition of his work came in 2003 and the following year, he made the decision to dedicate himself exclusively to art.
In addition to helping facilitate the USA Pro Challenge trophy project, Levarn is also responsible for introducing Trost's work to the United States. The two met in 2006 through a mutual Vail Valley friend, Marco Tonazzi, the owner of Valbruna Vail.
Later that year, Trost had the first showing of his work in Vail, which has resulted in a continuous collaboration with Levarn and the Vail International Gallery, where his paintings and sculptures are now on permanent display. His paintings and sculptures are also included in other important collections throughout Italy and abroad.
The Vail Valley stages of the 2013 USA Pro Challenge include the Steamboat Springs to Beaver Creek Queen Stage, featuring the new Bachelor Gulch climb dubbed The Brink on August 22, as well as the iconic Vail Time Trial on August 23.
The Vail and Beaver Creek stages of the 2013 U.S. Pro Cycling Challenge will be organized through a collaborative effort involving the Vail Valley Foundation, the Town of Vail, Vail Resorts, Beaver Creek Resort Company and cycling enthusiasts throughout the Vail Valley.

---

5704 Comments on "Italian artist creates unique trophies for Vail, Beaver Creek USA Pro Challenge stage winners"