Run, Ride, Refresh event in Vail features ride with Carmichael, run with Miller Oct. 1
Vail's second annual Run, Ride, Refresh event is set for 1 p.m. Saturday, Oct. 1 and will offer a rare opportunity to join a free guided mountain bike ride or trail run on Vail Mountain led by Lance Armstrong's coach Chris Carmichael and coach and manager of the U.S. Women's Mountain Running Team, Ellen Miller.
Mountain bike riders and trail runners will experience the beauty of Vail Mountain in the fall while they venture out on a trail run or mountain bike ride and then celebrate their accomplishment with a little relaxation on the Vail Chophouse Slopeside deck in LionsHead Village in Vail.
Refreshing beer and bubbly libations will feature Moët & Chandon Champagne specials and a free glass of Michelob Ultra for participants. The Chophouse post-ride event will also provide a unique chance to sit down with Carmichael and Miller and discuss tips and the new trends and technologies breaking out in each sport.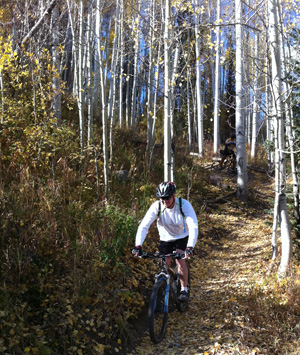 Additionally, participants will receive a Run, Ride, Refresh branded goodie bag from Runner's World and Bicycling magazines that will include the latest issues of the magazines, plus a copy of The Athlete's Palate Cookbook, over a $30 value.
Run, Ride, Refresh is part of Vail Restaurant Month's Health and Outdoors Week, taking place Sept. 26 through Oct. 2. According to Miller, who will lead the trail run, the event is a great opportunity for participants to take advantage of the beautiful fall weather, experience great dining all the while gaining insights from the pros.
"Chris and I are excited to take part in this free event and are looking forward to sharing our insights into our respective sports," said Miller. "The run and rides are a perfect opportunity for folks to gather and share their love of the outdoors. We're encouraging all ability levels to join us for a great afternoon and free beverages to follow."
The group run and ride, co-sponsored by Runner's World, Bicycling, Vail Restaurant Month, Vail Chophouse and the Vail Recreation District, will meet at 1 p.m. in front of the Vail Chophouse, at the base of the Gondola in LionsHead. Space is limited and available on a first-come, first-served basis.
Those not able to join the run or ride, are welcome to gather at the Vail Chophouse for the post-ride event and enjoy après specials taking place as part of the event. To sign up for the free event, contact Ruthie Carlson at ruthie@group970.com or (970) 845-7673.
Lodging packages are available for the Run, Ride, Refresh event as part of Vail Restaurant Month and are available at the Vail Marriott Mountain Resort and Spa by clicking here. Packages include a $100 credit at the Golden Leaf Spa and a Vail pass bike tour for two.
Vail Restaurant Month, which will take place from Sept. 16 to Oct. 16, features a month full of star chefs, singular dining experiences, wine and beer tastings, health/wellness/spa packages, romantic getaways, family fun, seminars, chef demos, recipes, family cooking experiences, celebrity author readings and book signings, outdoor adventures and more.

The run and ride will take place on the same loop on Vail Mountain with mountain bikers heading out first. Each loop is 4.7 miles with a vertical gain of 1,200 feet. After the first loop, runners and riders may choose to do an additional loop prior to the post-race party at the Vail Chophouse.
For more information about the Run, Ride, Refresh, contact Ruthie Carlson at ruthie@group970.com, or visit www.VailRestaurantMonth.com. For details on all Vail Recreation District activities, click here.
---

43 Comments on "Run, Ride, Refresh event in Vail features ride with Carmichael, run with Miller Oct. 1"