Vail Resorts' EpicMix adds photos for coming ski season
EpicMix is revolutionizing the way we ski -- again. The innovative app that tracks vertical feet and days skied is adding photo capabilities for this winter, making it even easier for skiers and snowboarders to share their on-mountain experience.
Vail Resorts Chief Executive Officer, Rob Katz announced the new functionality for the new EpicMix in Denver today, adding that the company will be eliminating almost all paper tickets by offering each skier a reusable and durable card loaded with daily lift tickets or a season pass. Each card (which is provided at no extra charge) will be enabled with RF technology, meaning the skier will no longer have to show a ticket or pass to the scanners. EpicMix homepage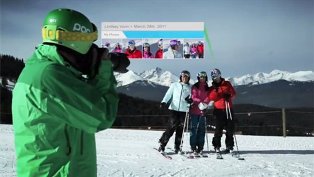 EpicMix photographers will be on the hill next season capturing portrait and action photos that will be automatically delivered to the skier's EpicMix account -- free of charge -- through a quick scan of a RF-enabled lift ticket or season pass. In addition to the professional photos requested by the guest, skiers will be able to combine their own EpicMix photos, pins and other stats into a "Remix" collage on EpicMix.com. EpicMix photographers will be replacing SharpShooter photographers on each mountain. Several hundred photographers will be hired to make EpicMix the most interactive experience possible.
"This season we're re-imagining how guest photos are taken, stored and shared at our resorts and delivering a groundbreaking way for skiers and riders to capture their experience on the mountains," said Katz. "Our six resorts will be offering something not available at any other ski mountain or other resort destination. People will be able to remember their vacation and photos are one of the most critical parts of creating those memories."
As EpicMix has changed the way people explore the mountain and share that experience, the way photos are shared online is changing now as well. Facebook and Twitter as well as photo storage sites like Flickr, Snapfish and Shutterfly will have simple integration with EpicMix. Guests will be able to take a picture through EpicMix and if the automatic settings are selected, that picture will be published to the sites they choose right away.
On top of photo capabilities and hard-card media, EpicMix is also adding hundreds of pins and improved functionality of the site. Guests will be able to see the pins they can earn as well as experience a faster, more open interface of the app and website.
EpicMix will continue to help skiers selectively share their stats and information without requiring them to do anything other than enjoy the mountain like they normally do. Activating an account through EpicMix photographerEpicMix opens up the experience of automatically checking in at each lift at Vail, Beaver Creek, Breckenridge, Keystone, Heavenly, and Northstar-at-Tahoe, earning rewards for accomplishments, and now getting access to professional photos, additional pins, and increased social network sharing capabilities.
Nearly 100,000 guests activated their accounts last season, resulting in a 15 percent adoption rate and 275,000 social posts on Facebook and Twitter. This season, EpicMix will be available to all Vail Resorts guests who purchase any lift ticket or season pass, with the new photo sharing functionality officially launching in mid-December 2011.
To start your EpicMix experience, purchase a season pass now at the new EpicPass.com. For unlimited, unrestricted access to seven resorts, the Epic Pass is available for $649. If you purchase your pass at a Colorado Ski & Golf, Boulder Ski Deals, Breeze, Any Mountain or other stores listed here over Labor Day weekend, you'll receive a $50 in-store voucher. Then download the EpicMix mobile app for your iPhone, Android or other smart phone at EpicMix.com.
For guests interested in keeping their EpicMix information private, no information collected through EpicMix will be shared unless he or she "opts in" and specifically selects to publish that information. Guests can choose to disable the RF chip in their pass to prevent any scanning.
Check out www.EpicMixPhoto.com for more information.
---

44 Comments on "Vail Resorts' EpicMix adds photos for coming ski season"