Nine smaller Colorado ski areas band together to offer Gems Card discounts for 2011-12 ski season
Colorado Ski Country USA (CSCUSA) Tuesday announced Gems Card deals for the 2011-12 season. The nine ski areas that make up the Colorado Gems have each extended a special offer exclusive only to Gems Card holders. Gems Cards went on sale today (Aug. 17).
For many Gem resort skiers and riders, purchasing the Colorado Gems Card is the key to unlocking a treasure trove of discounts and deals to be enjoyed throughout the upcoming season.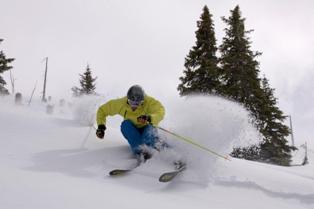 "Gem resort visitors are part of an enthusiastic group of dedicated skiers and riders intent on making the most of their season at these treasured ski areas," explains Melanie Mills, president and CEO of Colorado Ski Country USA. "They've discovered that the Gems Card is the simplest way to get the most out of the Gem resorts and the Colorado ski season."
Purchasing the Gems Card before ski season allows buyers to take full advantage of the card's savings throughout the winter. "Last winter, Colorado's ski season started in October with the opening of CSCUSA Gem resort Loveland Ski Area," continued Mills. "And for the first time in 14 years, the season extended into July when CSCUSA Gem resort Arapahoe Basin closed after the Fourth of July holiday."
The $10 Gems Card puts Colorado's world-renowned skiing within reach for skiers and riders from around the state and elsewhere. Some of the discounts Gems Card holders can take advantage of in the 2011-12 season include:
· Free lift tickets to two ski areas
· Two-for-one lift tickets at five ski areas
· Savings on lift tickets at all nine Gems ski areas
The nine Colorado Gems resorts are: Arapahoe Basin, Echo Mountain, Eldora Mountain Resort, Loveland Ski Area, Monarch Mountain, Powderhorn Resort, Ski Cooper, SolVista Basin, and Sunlight Mountain Resort.
For more information, or to purchase a Gems Card, please visit www.ShopColoradoSki.com. Cards are available starting Wednesday August 17 and throughout the upcoming ski season until they sell out.
---

3 Comments on "Nine smaller Colorado ski areas band together to offer Gems Card discounts for 2011-12 ski season"