Vail unveils new Gore Range Pump Track mountain bike course at Eagle's Nest
The finishing touches on the new Gore Range Pump Track at Eagle's Nest are complete and it is now open to the public for mountain bike access. The track is a continuous loop located high atop Vail Mountain and consists of a series of rollers and berms designed to help teach bikers how to maintain speed, gain speed over bumps and maneuver through tight turns.
Julie Rust, director of Vail Ski Patrol and the summer trails crew, and her team worked closely with the U.S. Forest Service and the International Mountain Bicycling Association (IMBA) to create the pump track.
"The new Gore Range Pump Track is a great addition to Vail's lineup of on-mountain activities this summer and to the mountain bike offering at Vail," said Rust. "It's designed for all ability levels to enjoy and we hope that it will encourage more people to get into the sport of mountain biking as well as provide a great outlet for biking enthusiasts to train and hone their skills on the mountain."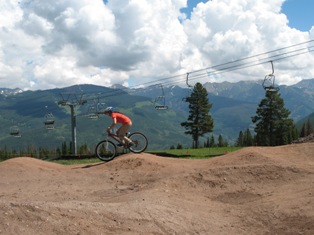 Tony Boone from IMBA adds, "The addition of the Gore Range Pump Track on Vail Mountain is a clear sign of the resort's dedication to furthering the sport of mountain biking." IMBA is a non-profit educational association whose mission is to create, enhance and preserve great trail experiences for mountain bikers worldwide while promoting opportunities that are environmentally and socially responsible.
Bike hauls are available on the Eagle Bahn Gondola (#19). All hiking and biking trails are currently open for the summer season with the exception of the Sunlight hiking trail, which will open as conditions permit. Trail updates are posted in the Vail Village and Lionshead base areas as well as at Eagle's Nest.
As always, guests are reminded to obey all posted signs and closures. Helmets and sturdy shoes with a good tread are recommended for bicyclists at all times and all bikes must have two working hand brakes. All mountain bikers must obey the National Off-Road Bicycle Association (NORBA) code, printed on Vail Mountain's summer trail map.
For more information about Vail Mountain, Adventure Ridge and mountaintop dining, visit www.vail.com, stop by the Mountain Information Center, open daily from 9 a.m. – 4 p.m., or call (970) SKI-VAIL (754-8245).
---

14 Comments on "Vail unveils new Gore Range Pump Track mountain bike course at Eagle's Nest"