'Ladies, Lessons & Libations' just one of many specialized golf clinics at Vail Golf Club
A weekly golf gathering for women began Thursday, July 21, at the Vail Golf Club and offers golfers of all skill levels an opportunity to learn the sport or improve their golf game. The clinic, "Ladies, Lessons & Libations," takes place from 5:30 to 6:45 p.m. Thursdays throughout the summer.
Each class is limited to 16 women and offers a variety of instruction including about the short and long game, equipment needs and course management, all the while creating an enjoyable atmosphere for women to meet others who share their interest in golf. Costs are $25 per clinic, and Happy Valley Grill will offer participants $3 glasses of wine following the clinic.
"It's an enjoyable way to spend an evening learning how to improve your golf skills in a laid-back atmosphere," said Vail Golf Club Director Alice Plain. "It will be relaxed and social, which is a really fun way to receive golf instruction. It also includes a drink sampling, with a different beverage each week."
In addition, a variety of other clinics, camps and activities are underway at the Vail Golf Club this summer, led by the Golf Club professionals, to help players improve their game and have fun on the greens. Some of the programs offered include:
Players Clinic, 10 a.m. to 1 p.m., Every Other Sunday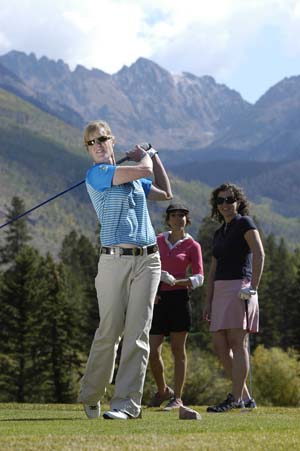 Golfers can take advantage of a small class setting and receive instruction on how to shoot lower scores through focus on ball striking, chipping and putting, chipping and pitching, bunker and wedge play and more. Costs are $100 and require 48 hours advanced registration. Class size will be limited to five participants.
Senior Clinics, 11 to Noon, Tuesdays
For those ages 50 and older, these clinics are limited to 10 participants and will be offered every other week. Instruction will include tips on balance and motion, maintaining or adding distance, using the latest technology in clubs and balls, learning scoring shots around the green and more. Clinics cost $20 per person. Happy Valley Grill will offer lunch entrees at 30 percent off to participants following the clinic and the Vail Golf Club pro shop offers 20 percent off of all merchandise to participants the day of the clinic.
Coors Coaching Hour, 5:15 to 6:15 p.m., Tuesdays
This weekly program is limited to 25 people and includes unlimited range balls, two drink tickets and instruction from the Vail Golf Club professional staff. A perfect opportunity to practice golf prior to the Tuesday night free concerts at the Ford Amphitheater.
2-Day Adult Golf Camp: Aug. 27-28
This two-day camp will feature three hours of instruction each day. Cost is $150 per participant and includes instruction on short game, full swing, video analysis and lunch.
3-Day Adult Beginner Camps
Cost is $75 per participant and perfect for those who want to learn the game of golf. The next camp is 5:15 to 6:30 p.m. Monday through Wednesday, Aug. 29-31
Family Golf Scramble: July 31
The Family Golf Scramble will be an opportunity to have a family outing at the course while parents and children learn together. The scramble will take place from 4:30 to 7 p.m. and cost is $50 per family, which includes golf, cart, range balls, hot dogs and sodas.
The Vail Golf Club, which is operated by the Vail Recreation District, is nestled at the base of the Gore Mountain Range and presents golfers with a unique 18-hole, par 71 experience at 8,200 feet elevation. The golf club is open to the public and offers a full service golf shop, group and corporate outings, professional instruction, launch monitor, driving range, practice area, club storage, golf swing analysis, club rentals, demo days and an on-site restaurant, Happy Valley Grill.
Many lesson and clinics require advanced registration. For details, click here or call the Vail Golf Club at 970-479-2260. To book tee times, click here.
---

7 Comments on "'Ladies, Lessons & Libations' just one of many specialized golf clinics at Vail Golf Club"