Vail Cascade's Atwater on Gore Creek to host 'Candlelight Night' to benefit Habitat for Humanity
Atwater on Gore Creek will host a "Candlelight Night" dinner on July 29 from 5:30 - 9:30 p.m. The Vail Cascade Resort's signature restaurant Atwater, overlooking Gore Creek, will turn off the lights and illuminate the balcony and dining area with hundreds of candles creating a twinkling and magical atmosphere.
Additionally, the event provides the award-winning restaurant an opportunity to save energy, and a portion of the evening's proceeds will be donated to Habitat for Humanity of Eagle and Lake Counties. Previous Candlelight Nights have resulted in donations of thousands of dollars, cumulatively.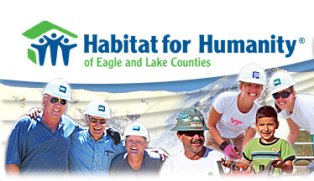 The indoor/outdoor creekside location for this upcoming Candlelight Night will give diners a chance to see picturesque Gore Creek at one of its highest water-flow points in years; truly a mesmerizing background. With glass doors along the length of the restaurant, guests have the opportunity to choose a more protected, yet open-air feeling inside, or true al fresco dining on the outdoor balcony. The full ala-carte menu will be available throughout the evening, incorporating herbs from Atwater's garden and sustainably produced ingredients.
Russ Craney, assistant general manager of the Vail Cascade Resort adds, "This time, diners will have a chance to sip the beverage that won 2nd place in the Taste of Vail's mixology competition and savor our Lamb Trio specialty that won the Taste of Vail's People's Choice Award. Kids and adults will have fun using 'glow sticks' to read the menu that features local produce and gluten-free options, and the flickering candles make everything even more special. We couldn't have it any better with a rushing creek, too. Knowing that proceeds from the dinner helps Habitat is the final, perfect touch."
By choosing to operate under minimum electricity for the evening, the Vail Cascade Resort demonstrates a pledge to recognize the need to preserve the environment. The resort shows a dedication to practices and programs that pay respect to, and lessen the footprint on a changing environment via the nationally recognized program, Destination Earth.
Vail Cascade Resort adopted the Destination Earth program with the knowledge that the resort's customers and associates all benefit from a healthy, sustainable environment. The property has a designated "green team" onsite and has made a commitment to pursuing the following ideals:
* Sourcing environmentally responsible services and products locally, and purchasing organic, environmentally friendly- and recycled supplies, whenever possible.
* Purchasing fresh and sustainable foods locally grown, whenever possible.
* Creating partnerships with other organizations that have demonstrated a commitment to preserving the environment.
* Leading associates in applying eco-friendly practices in their daily operations.
The candlelight dinner will begin at 5:30 p.m. on July 29. Reservations for the candlelight dining experience are strongly recommended and can be made by calling 970-479-7104. For further information on the resort and restaurant, visit the website at www.vailcascade.com.
For more information on Habitat for Humanity, contact Kristi Moon at 970-748-6718 and visit www.habitatvailvalley.org.
---

1 Comment on "Vail Cascade's Atwater on Gore Creek to host 'Candlelight Night' to benefit Habitat for Humanity"