Vail Recreation District announces inaugural Jake Wells Cyclocross Clinic
The Vail Recreation District (VRD) continues to offer visitors and residents new and exciting activities this summer, including the addition of a three-day clinic for cyclocross bicyclists scheduled Aug. 5-7. The clinic, the first of its kind offered by the VRD, will be taught by Vail's-own Jake Wells, a national champion in mountain biking and a decorated cyclocross racer.
Wells, who has finished in the top 15 at both the U.S. Cyclocross and Mountain Bike Marathon National Championships and in the top ten in the U.S. Pro Cyclocross Peloton, designed the clinic to prepare riders for the upcoming cyclocross race season. "We created this clinic to provide everything you need to know about the sport, from technical riding skills to race strategy," said Wells. "It will be a comprehensive introduction for people who are new to cyclocross and an opportunity to fine-tune skills for racers who are more experienced."
According to VRD Event and Partnership Manager Beth Pappas, the addition of the Jake Wells Cyclocross Clinic to the recreational opportunities offered by the VRD represents exciting growth. "A lot of people are interested in trying out cyclocross but don't know where to start," said Pappas. "We're thrilled to be able to collaborate with Jake and expand the types of sports and activities the VRD provides."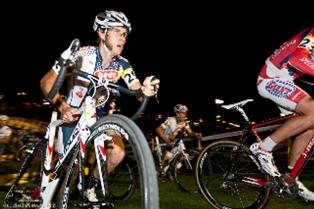 Jake Wells Cyclocross RacingThe three-day clinic, which will take place primarily on a course on Golden Peak at the base of Vail Mountain, will teach participants about cyclocross equipment, technique and tactics, plus provide ample opportunities for riders to practice their newfound skills. "Cyclocross blends that line between road riding and mountain biking," said Wells. "And, learning cyclocross skills will help you become more proficient at both."
Other activities, such as a night spent bowling at Bol Vail and a screening of a cyclocross movie at Yeti's Grind in Vail Village, will make the clinic entertaining as well as instructional. Participants can also choose to benefit from specialized services such as bike fitting, physiological testing and massage. Special lodging rates will be available for race participants at the Vail Cascade Resort and Spa. Registration costs are $400, $500 or $625 depending on which clinic package participants choose. Registration will be limited to 20 individuals and is available by clicking
here
or calling the VRD at 970-479-2880.
The first-ever Jake Wells Cyclocross Clinic is sponsored by Bol Vail, Dogma Athletica, Street Swell, Yeti's Grind and Ridley Bikes. Ridley Bikes will also be present during the event to offer demo bikes for participants to try. Mechanical support will be provided by Mountain Pedaler.
For more information on the first-ever Jake Wells Cyclocross Clinic, call the VRD Sports Department at 970-479-2280 or go to
http://www.vailrec.com/cyclocross.cfm
.
---

8 Comments on "Vail Recreation District announces inaugural Jake Wells Cyclocross Clinic"