Vail Recreation District's La Sportiva Vail Half Marathon Trail Running Race set for Sunday
The Vail Recreation District's (VRD) La Sportiva Vail Half Marathon Trail Running Race will challenge nearly 300 runners on Sunday (7-24). The race, which is slightly longer than a standard half marathon at 14.4 miles, is recognized for its nine mile climb up Vail Mountain, a beautiful scenic run through Vail's famed back bowls and ends at Eagle's Nest on top of Vail Mountain.
Named Most Scenic Race by readers of Colorado Runner magazine in 2010, this year's run will also be recognized for including Peggy Campbell-Rush, recipient of a Project Athena scholarship, who is coming to Vail specifically to race the half marathon. The 57-year-old N.J.-native, who survived breast cancer and a near-fatal car crash, calls running the Vail Half Marathon an athletic dream come true made possible by the Project Athena Foundation, which awards women who have faced medical set backs with ways to embrace recovery and conquer physical fitness goals.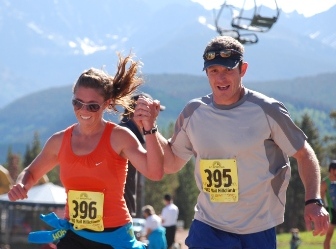 "This weekend's race is proof that no matter what setbacks we all face, we need to get back up and celebrate the good times, like crazy," said Campbell-Rush."I'm grateful for the Project Athena scholarship and how it is allowing me to come to Vail and challenge myself on what I've heard is a spectacular run."
The VRD invites others who love to run to join Campbell-Rush for the half marathon, which will begin at 8 a.m. on Sunday (7-24) at the Golden Peak Children's Center in Vail From Golden Peak, the race ascends gravel roads up Vail Mountain, with an average grade of 7 percent and a total elevation climb of 4,020 feet.
The course takes runners as high as 11,653 feet during the race. Long known as an iconic event among Colorado runners, 2011 will be the last year runners will compete on the half marathon course. In 2012, a new course will be created to accommodate changes in Forest Service travel management plans.
Individual race costs are $28 for preregistration or $38 on race-day. Registration is available by clicking here or by calling 970-479-2280. Racers should park in Vail Village parking structure where parking is free for the summer. Day of registration will occur at the race starting area until 7:45 a.m.
The Eagle Bahn Gondola in LionsHead will operate from 8:30 to 9:30 a.m. for free for race-day spectators. Spectators are encouraged to park in the LionsHead parking structure where parking is also free for the summer. Returning down the mountain on the gondola will also be free for race participants and spectators following the race.
In addition to Campbell-Rush's goal to run the Vail Half Marathon after overcoming physical hardship, is her desire to share her love of running and exercise with others. In 2010, Rush-Campbell started the Recess Runners at Gill St. Bernard's School, where she is principal. The Recess Runners leads first through fourth grade students on runs around the school track.
"I believe in leading by example," said Campbell-Rush. "My students are thrilled when they can run with me. They also beg me to come out at recess and play soccer, climb on the jungle gym and play basketball. I love to run, I love to play and I'm excited to share my success from this weekend with my students and other runners around me."
Presented by Howard Head Sports Medicine, Sunday's race is the fourth in the 2011 La Sportiva Vail Mountain Trail Running Series, which is presented by Suunto.The fifth race, the 5k and 10k@10,000 Feet, will take place on Aug. 7 with runners riding the Eagle Bahn Gondola to the race start area. The entire race is run above 9,000 feet with high points above 10,000 feet.
The Berry Picker trail run follows on Aug. 28 and will take runners 3.2 miles up a tough single track from the base of Vail Mountain to the top at Eagle's Nest. The final race of the series, the La Sportiva Evergold 10k and 5k on Sept. 11, will begin at the Vail Golf Club and traverse Vail Mountain back to the golf club where racers will enjoy an end-of-season brunch, compliments of Happy Valley Grill.
Prizes will be presented to the top three finishers of each age group at each race, with series prizes awarded to the top three finishers who compete in at least five events. Raffle prize drawings also will be held at each awards ceremony featuring products from area merchants and national companies.
2011 race sponsors include La Sportiva, Suunto, Vail Resorts, Beaver Creek Resort Company, Optic Nerve, HydraPouch, FirstBank of Vail, Vail's Mountain Haus, Smart Wool, Tiga Advertising, Howard Head Sports Medicine Centers, Steadman Clinic, Gatorade, Journey Films, Save our Soles, Plum TV, KZYR, Trek Light, Chill Towels, Road ID, Sun-Rype, Anti Monkey Butt, Divas Vail Half Marathon, Dusty Boot, Kinetico Water Systems, Happy Valley Grill and Camelbak.
The Vail HillClimb takes place during Vail's Fourth of July weekend celebration. For a listing of events, click here. For more information on the race, click here or call 970-479-2280.
---

1 Comment on "Vail Recreation District's La Sportiva Vail Half Marathon Trail Running Race set for Sunday"