Vail's Grand Traverse mountain bike trail now open for summer season
Vail's signature mountain biking trail, Grand Traverse, is now open to the public for the remainder of the summer season, thanks to hard work from Vail's trail crew this summer.
From Eagle's Nest, the 4.9 mile trail starts out easy as it loops through Game Creek Bowl and becomes increasingly difficult as it wraps around the top of Sun Down Bowl. Mountain bikers can exit Grand Traverse at Wildwood or Patrol Headquarters to Kloser's Klimb and can enjoy incredible views of Mt. of the Holy Cross, the Gore Range and the world-famous Back Bowls and Blue Sky Basin throughout the journey.
"With the Grand Traverse now open, summer has officially arrived for mountain bikers in the Vail Valley," said Julie Rust, director of Vail Ski Patrol and the summer signs and closures (SAC) crew. "Our team has been working hard to remove the last few remnants of winter on the trail and it's now in great shape for riding."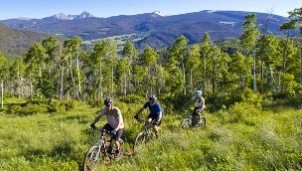 Rust and others from Vail Mountain are working closely with the U.S. Forest Service and the International Mountain Bicycling Association (IMBA) on adding two new gondola-served mountain bike trails in an effort to enhance the lower- and intermediate-level mountain bike experience. The first new trail, appropriate for lower-level riders, will begin at Eagle's Nest, winding west below the upper portion of the Eagle Bahn Gondola (#19) through the trees. The second trail, geared toward intermediate riders, will also begin at Eagle's Nest, wrapping below the Eagle Bahn Gondola (#19) toward the western side of the mountain. Both trails will connect midway down the mountain allowing riders to continue on to Lionshead. Construction on the trails is underway this summer with access beginning next summer as conditions permit.
Bike hauls are available on the Eagle Bahn Gondola (Lift #19). All hiking and biking trails are currently open for the summer season with the exception of the Kinnickinnick and Sunlight hiking trails, which will open as conditions permit. Trail updates are posted in the Vail Village and Lionshead base areas as well as at Eagle's Nest.
As always, guests are reminded to obey all posted signs and closures. Helmets and sturdy shoes with a good tread are recommended for bicyclists at all times and all bikes must have two working hand brakes. All mountain bikers must obey the National Off-Road Bicycle Association (NORBA) code, printed on Vail Mountain's summer trail map.
For more information about Vail Mountain, Adventure Ridge and mountaintop dining, visit www.vail.com, stop by the Mountain Information Center, open daily from 9 a.m. – 4 p.m., or call (970) SKI-VAIL (754-8245).
---

2 Comments on "Vail's Grand Traverse mountain bike trail now open for summer season"