Vail Valley to celebrate life of late first lady Betty Ford during multiple events Aug. 6-7
Residents and guests will be able to share in the Vail Valley's celebration of the life of former First Lady Betty Ford through an art form and three of the places that she loved August 6 and 7 as the Vail Valley Foundation, in conjunction with the Betty Ford Alpine Gardens and the Beaver Creek Chapel, pay tribute to the life and legacy of Mrs. Ford, who
passed away last week
.
"Mrs. Ford was not only a wonderful person," offered Vail Valley Foundation Chairman Harry Frampton, "but also a tremendous ambassador for the Vail Valley. She and President Ford loved this valley and were dedicated to making it a better place because of their presence. We are undoubtedly a far better community because of Betty Ford and these two days will be an excellent opportunity to celebrate her life."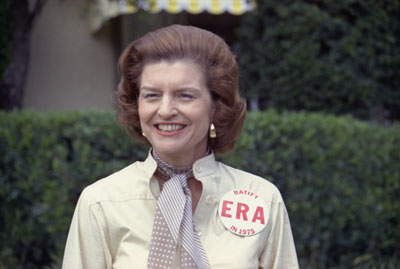 The celebration will begin Saturday evening, August 6, with the Vail International Dance Festival's International Evenings of Dance performance at the Gerald R. Ford Amphitheater in Vail. In recognition of Mrs. Ford's integral role in helping to start the Festival, the Vail Valley Foundation will provide free general admission lawn tickets for the performance to everyone interested in attending.
Complimentary tickets will be distributed at the Ford Amphitheater box office on the evening of the performance on a first come-first served basis until the lawn is full. Those individuals that have already purchased general admission seating for the August 6 performance will receive a lawn voucher for another Dance Festival performance.
One of the featured International Evenings of Dance artists on August 6 will be Taiwanese ballerina Fang-Yi Sheu, a former principal dancer with the Martha Graham Dance Company. Mrs. Ford, an avid dancer in her youth, studied with Martha Graham for two summers at the Bennington School of Dance in Vermont and eventually joined the choreographer's auxiliary troupe, performing with the company at Carnegie Hall. Ms. Sheu's performance that evening will be dedicated to Mrs. Ford.
Following the International Evenings of Dance performance which gets underway at 7:30 p.m., the audience will have the opportunity to take a candlelight walk through the Betty Ford Alpine Gardens, located adjacent to the Ford Amphitheater. The evening will end in Ford Park with coffee and dessert provided in the Dance Festival gala tent.
"We feel truly blessed to have known Mrs. Ford," said Betty Ford Alpine Gardens Director Nicola Ripley, "and thank her, not just for bestowing her name, but for her love of the Gardens. We will honor her memory through the beauty of the Gardens in the years to come."
On Sunday, August 7, and the community of the Beaver Creek Chapel will host a special memorial service conducted by Father Brooks Keith.Scheduled for 7 p.m. at the Chapel, the service will be approximately an hour in length and will include tributes and memories from local leaders, music and readings.
Additional details relative to both days' events will be forthcoming.
---

0 Comments on "Vail Valley to celebrate life of late first lady Betty Ford during multiple events Aug. 6-7"
Be the first to comment below.