Tickets on sale Friday for 'America the Beautiful' patriotic concert featuring Dallas Symphony in Vail
The Vail Valley Foundation will strike up the band to celebrate America at the Gerald R. Ford Amphitheater Monday afternoon, July 4, as the Foundation once again plays host to the annual patriotic concert for the entire community and its guests.
Featuring the Dallas Symphony Orchestra, under the direction of Conductor Jeff Tyzik and entitled "America the Beautiful", the concert, hosted in conjunction with the 2011 Bravo! VailValley Music Festival, will get underway at 2 p.m.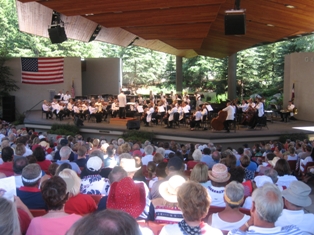 Pavilion seat tickets for the concert are priced at $15 and will go on sale at the amphitheater box office on Friday, July 1, at 8 a.m., with a limit of four per person. No telephone orders will be taken and no tickets will be sold online or through the Vilar Performing Arts Center box office or the Marketplace box office in Vail Village. Ticket purchasers must be 16 years of age or older.
General admission lawn seating is free, with the gates to the Ford Amphitheater opening at 12:30 p.m. in anticipation of the 2 p.m. show.
"This concert is always a great complement to Vail's Fourth of July festivities," offered Ceil Folz, president of the Vail Valley Foundation. "The show is always a true red, white and blue flag waving affair, especially when it comes time for the 'Armed Forces Salute'. The Patriotic Concert was one of the first events hosted at the Ford Amphitheater during its inaugural season in 1987 and has been a crowd favorite ever since.".
All proceeds from the Patriotic Concert ticket sales will go to support the Vail Veterans Program, a community-based effort that offers skiing, snowboarding and summer opportunities to amputee veterans of the conflicts in Afghanistan and Iraq. The program not only introduces participant veterans to winter and summer activities, it also offers a positive transition to living with a new disability.
The Dallas Symphony's 2011 performance is slated to include such traditional Independence Day favorites as Bagley's "National Emblem March", the "Colonel Bogey March", a suite from Jerome Moross' "Big Country", a Louis Armstrong medley, "Liberty Fanfare" by John Williams and Tschaikovsky's "1812 Overture".
Additional offerings are scheduled to include Cab Calloway's "Minnie the Moocher" and Armstrong's "Do You Know What it Means to Miss New Orleans".
The Gerald R. Ford Amphitheater and the Patriotic Concert are projects of the Vail Valley Foundation. For additional information, contact (970) 949-1999 or visit www.vvf.org.
---

0 Comments on "Tickets on sale Friday for 'America the Beautiful' patriotic concert featuring Dallas Symphony in Vail"
Be the first to comment below.