Huge snowpack prompts Vail to reopen Adventure Ridge for snow tubing, kids snowmobiling
In an effort to remain flexible and provide the best early-summer on-mountain experience for its guests, Vail Mountain recently announced that with ample snow still remaining at higher elevations, it will reopen two lanes of tubing as well as the Adventure Speedway kids snowmobile track at Adventure Ridge this weekend, Friday, June 3 through Sunday, June 5.
The return of snow tubing and kids snowmobiling will coincide with the previously scheduled opening of the Eagle Bahn Gondola (#19) on Friday, including limited dining at Eagle's Nest and Adventure Ridge activities as part of traditional early-summer operations.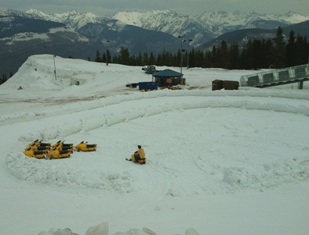 "If you can't beat her, join her! Mother Nature provided Vail with one of the best ski and snowboard seasons in history and stuck around throughout the spring with a series of storms and cold temperatures," said Chris Jarnot, senior vice president and chief operating officer of Vail Mountain. "The snow is melting quickly, but we still have enough at Eagle's Nest to offer tubing and kids snowmobiling, at least through this weekend."
The Eagle Bahn Gondola (#19) will be open this weekend from 10 a.m. to 6 p.m., Friday through Sunday. Tubing and kids snowmobiling will be available from 11 a.m. to 5 p.m., Friday through Sunday. Also available will be the climbing wall, bungee trampoline, and ever-popular Dino Dig as well as dining at Talon's Deck, offering a range of lunch items from BBQ and burgers to salads and regular specials. Hours and operations of on-snow attractions this weekend and beyond are weather dependent as crews continue preparations for traditional summer activities including the new nine-hole miniature golf course in Lionshead, the new Top of the Mountain Tours, horseback tours, pony rides, disc golf and more.
For more information about Vail Mountain, Adventure Ridge and summer hours and operations visit www.vail.com, or stop by the Mountain Activities & Information Center, open from 9:30 a.m. – 4:30 p.m., or call (970) 754-VAIL (8245).
---

1 Comment on "Huge snowpack prompts Vail to reopen Adventure Ridge for snow tubing, kids snowmobiling "