Sowing Seeds program blossoms into trip to White House for Kelly Liken, others
A walk through the garden turned into a walk through history for chef Kelly Liken and the Sowing Seeds entourage that accompanied her to Washington, D.C. on April 19 as the group received a personal tour of the White House Victory Gardens, courtesy of the Obama's chef, Sam Kass.
The trip was a result of an invitation from Kass, following Michelle Obama's evening at Restaurant Kelly Liken during the First Lady's ski trip to Vail in February. In addition to Liken, the Vail Valley contingent included her husband Rick Colomitz, Sowing Seeds director Sandra Story and her son Quinn and Mary Beth Ottley and her sons Dudley and Patrick.
After passing through three security check points, the group found themselves outside the First Lady's office, waiting nervously for Kass to join them for the tour. While Mrs. Obama was unable to join the Sowing Seeds group, she wanted them to know that she personally helps plant the Victory Gardens each year and regularly visits the garden.
Once underway, the garden tour turned into the history lesson.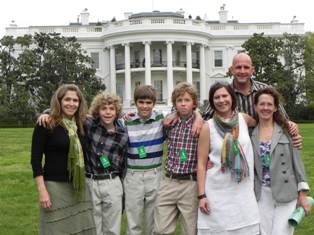 "Sam directed our attention to the largest raised bed in the garden that is dedicated to Thomas Jefferson," explained Sowing Seeds Director Sandra Story. "All the vegetables in that bed come from heirloom seeds that have been harvested, collected and passed down from Mr. Jefferson's original Monticello garden back in 1809. It was a wonderful history lesson to impart to the three Eagle County Sowing Seeds students that accompanied us on the tour."
Created by the Vail Valley Foundation in conjunction with Liken, Sowing Seeds provides the opportunity for students to plant and care for their own gardens in the Brush Creek and Edwards greenhouses. The program not only connects children to their environment, but also fosters an understanding of the origin of food and teaches responsibility through stimulating hands-on activities.
In addition to his tour guide duties, Kass, who followed the Obama's to the Washington after serving as the family's personal chef in Chicago, was recently promoted to the position of White House Policy Advisor for Healthy Food Initiatives.
"Following the conclusion of the tour," Story concluded, "we invited Mr. Kass to come to the Vail Valley to learn more about the Sowing Seeds program. He said that he will look forward to the visit."
Sowing Seeds is a project of the Vail Valley Foundation. For additional information on Sowing Seeds or other educational initiatives of the Foundation, visit
www.vvf.org
.
---

1 Comment on "Sowing Seeds program blossoms into trip to White House for Kelly Liken, others"