Vail Valley Foundation to underwrite $250,000 'Great Start' program to prepare local kids for kindergarten
Seven years ago, the Vail Valley Foundation, in conjunction with the Eagle County School District, changed the face of education in the Vail Valley.
With the creation and funding of "Success at Six", the nonprofit organization ensured that Eagle County families with kindergarten-aged children would have the opportunity for them to attend fulltime early learning educational programs. "Success at Six" represents the only program in Colorado where an outside organization has raised funds to aid in the public education process.
Looking ahead to the coming summer, the Foundation and the School District are poised to once again dramatically alter the educational landscape in the Vail Valley with the creation of an all new kindergarten readiness pilot program that will center on the idea that a child's first step to their educational future actually comes from being socially prepared to enter kindergarten.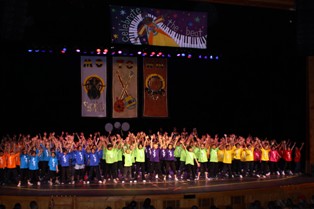 Dubbed "Great Start", this new program will utilize teachers and classrooms at Avon Elementary School, Gypsum Elementary School and June Creek Elementary School for a seven-week summer semester that will run from June 20 through August 5. Sessions will run four days per week and will accommodate a total of 195 students, with a target of 15 children per classroom and a 1 to 8 teacher-student ratio.
"Leading research consistently shows a direct link between success in school and the preparation that young children receive from the time they are born until they enter kindergarten," explained Ceil Folz, president of the Vail Valley Foundation. "Young children who have the opportunity to engage in stimulating cognitive activities and nurturing social-emotional relationships are already ahead of their peers when they enter kindergarten. The new Great Start program will now allow us to take the next step in an effort to reduce the achievement gap before the first day of school ever takes place. It will truly be seven weeks that change young lives forever."
The need for a "Great Start" to the educational process is well documented. National assessments show that by fourth grade, there are already significant gaps in the achievement of black, Hispanic, and white children. Other studies demonstrate differences as early as the first grade. Add to these findings the fact that Colorado's largest achievement gap exists in Eagle County and the need becomes painfully clear.
"We owe this to our children," continued Folz, "and we can't afford to wait. Achievement gains are significant if children can get a head start. In addition, the pre-kindergarten and early childhood age ranges also represents the most effective time to introduce this type of program."
In addition to the student component of Great Start, parents will also be required to be involved in the process through the Family Literacy Project aspect of the program. Once a child is enrolled in Great Start, his or her parents become eligible for English as a Second Language courses and/or computer and parent education classes. All parents of Great Start students will also be required to participate in the weekly Parents and Children Together sessions.
The Great Start price tag is estimated to be $250,000, which the Foundation has committed to underwrite. Students will be charged per day on a sliding scale based annual household income, with enrollment ranging from $2 per day to $25 per day.
"There is no other district in the state that has this kind of support coming from an outside entity," offered Eagle County School District Superintendent Sandra Smyser. "We are extremely fortunate that the Vail Valley Foundation has enabled this district to put together this ongoing opportunity for our children."
In conjunction with the creation of Great Start, the Foundation has also made the decision to specifically focus on the pre-kindergarten and early childhood arenas for all future education initiatives, with an overall goal of ensuring that Eagle County does a better job of preparing their children to enter the school system than any community in the nation.
"We cannot afford to postpone investing in children until they become adults," offers James Heckman, a Nobel laureate in Economics, "nor can we wait until they reach school age—a time when it may be too late to intervene. Learning is a dynamic process and is most effective when it begins at a young age and continues through to adulthood."
In addition to Success at Six and Great Start, other current Foundation programs include the Magic Bus, which is funded by the Foundation and facilitated by the Youth Foundation. The program features a fleet of vans that travel throughout Eagle County, providing pre-kindergarten-aged children with the opportunity to discover the wonders of learning about their world, encouraging creative expression and nurturing natural curiosity.
While the Foundation will now focus on pre-kindergarten and early childhood learning programs, existing educational initiatives such as Sowing Seeds, First Notes, Celebrate the Beat and the Vail Valley Scholarship programs will continue to operate and grow.
---

27 Comments on "Vail Valley Foundation to underwrite $250,000 'Great Start' program to prepare local kids for kindergarten"