Arapahoe Basin set to keep record ski season rocking into June
The spring season is just taking off at Arapahoe Basin. April and May are packed with events, and the deep spring snow that has fallen on the slopes is forecast to continue.
Arapahoe Basin is enjoying their best snow season since 1996 and the third best season on record. To date, A-Basin has received 374 inches of snow - 130% of average. And to get you to A-Basin, the free Summit Stage will continue running until May 29.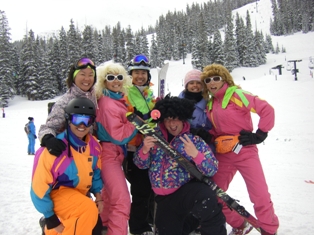 Today (Sunday April 24), Arapahoe Basin will host the Beach'N Egg Hunt. Children are invited to join the Easter Bunny and Easter Chicken for an afternoon Easter Egg Hunt. The Easter Bunny and Easter Chicken will arrive outside the Snowsports Center around 11:30 a.m. Egg hunts will take place on Molly Hogan for those children who do not ski and Wrangler for those who do ski. The event will conclude around 2 p.m.
Celebrate Locals' Day on Wednesday, April 27 with Arapahoe Basin and KSMT. Arapahoe Basin will be offering $49 A-Basin Locals' Day Lift Tickets (good with coupon from the Summit Daily News). Registration for both the Air & Style competition and the volleyball competition start at 8:30 a.m.
The Air & Style competition will be held in the Treeline Terrain Park at 10 a.m. Cash prizes will be awarded. Arapahoe Basin Food & Beverage will be selling sliders in the base area and offering Jagermeister and Sam Adams specials in the 6th Alley Bar all day.
On Saturday, April 30, Arapahoe Basin will be hosting the 9th Annual Marmot Grind, an uphill, downhill adventure race. Course descriptions can be found online at www.arapahoebasin.com/events for both divisions: Race and Recreational.
Registration can be done in advance at active.com or on the second floor of the A-Frame the day of the event (beginning at 6:30 a.m.). Registration fees: Race- $35 Recreation- $25. Cash prizes and/or Marmot gear will be awarded to the top 3 racers in each division. The Race division will start at 8 a.m. and the Recreation division at 9 a.m. All competitors are invited to attend an après ski party in base area following the event.
Arapahoe Basin is hosting many great events in May. May 7- Huck, Rock'N Roll; May 14- Red Ball Beach Bash; May 21- Free Rail Jam; May 29- Festival of the Brewpubs. A-Basin also hosts a May Concert Series. Free concerts take place on Saturdays in the base area, beginning May 7.
For additional information regarding these events, go to www.arapahoebasin.com/events or call 1-888-ARAPAHOE (272-7246).
---

31 Comments on "Arapahoe Basin set to keep record ski season rocking into June"