Legendary Mahres brothers to get hall of fame nod at Korbel American Ski Classic in Vail
The greatest ski racing family duo the United States has ever produced will be celebrated March 26 as Phil and Steve Mahre are inducted into the International Ski Hall of Fame as 2011 Legends of Honor in conjunction with the Korbel American Ski Classic in Vail.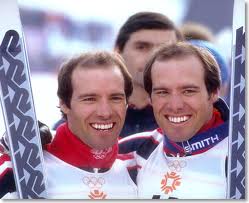 "This evening will be a truly special affair," explained Michael Imhof, Vice President of Sales and Operations for the Vail Valley Foundation. "Anyone that was into ski racing in this country knew about Phil and Steve, whether they could tell them apart or not. They proved to the world that Americans did indeed belong among the elite of the ski racing community, not just at big events, but week in and week out on the World Cup circuit."
The nine children of Dave and Mary Mahre grew up on the slopes of White Pass Ski Area, 40 miles west of Yakima, Washington. In White Pass, population 22, 11 of them named Mahre, there was not much else for a kid to do but ski.
The "Twins" (Phil and Steve were born four minutes apart) would hurriedly finish their homework on the 90-minute bus ride home from school so they could spend their after school time free skiing, jumping off cliffs and running gates at "home".
Working their way up through ski racing's junior ranks, Phil and Steve burst onto the world stage in 1975, earning a spot on the U.S. Olympic Team to the 1976 Innsbruck Games. Ironically, Steve's racing career almost came to an end at those Games.
After finishing 13th in the Olympic Giant Slalom, Steve retired. He was 18 years old, happy with his Olympic moment and wanted to go back to school. He thought he would be happy watching his brother race on from the sidelines. That is until it actually happened.
"Phil went back to the World Cup and won his first race," recalls Steve. "I'm watching it on TV and thinking 'I can beat that guy'."
By the time the 1980 Olympics rolled into Lake Placid, Phil had eight World Cup wins under his belt. He also had a metal plate and seven screws in his ankle from a potentially career ending injury in 1979. He would lead the first run of the Olympic Slalom, eventually capturing the silver medal behind Swedish great Ingemar Stenmark.
The next three years would prove to be truly magical for both Mahres. Phil would win the coveted World Cup Overall crystal globe in 1981, 82 and 83. In 1982, he had the Overall mathematically wrapped up by Super Bowl Sunday, with two months still remaining in the season.
Out of the 18 World Cup Slalom and Giant Slalom races contested that winter, Phil failed to finish in the top three only once, with five wins and nine second place finishes. Better still, Steve would end the season third in the final rankings.
That same season, the "younger" Mahre would also become the first American to win an individual World Championships gold medal, claiming the top step of the Giant Slalom podium in Schladming, Austria just two weeks after arthroscopic surgery on both knees.
Fast forward to 1984 and Sarajevo, Yugoslavia. Neither Phil or Steve had enjoyed a particularly productive World Cup season and many in the American media gave them little chance to earn a medal at the Games. Skiing flawlessly in the first run of the Olympic Slalom, Steve built up a half-second margin over Swede Jonas Nilsson to lead the race, while Phil sat comfortably in third.
A strong second run for Phil, coupled with a series of mistakes by Steve, resulted in a gold medal for the "older" Mahre and the silver for Steve, just 21-hundredths of a second behind his best friend. It would be the third time the Twins had finished one-two in a major international Slalom race.
Unbeknownst to either Mahre, Phil's wife Holly had given birth to a baby boy in Arizona an hour prior to the start of the race. Phil would find out about his new son during a television interview following the competition.
"Heck," grinned Phil, "there she was doing all the work, while I was out there playing."
The dream would come to an end in March of 1984, ironically in Vail, Colorado during the American Ski Classic, as Phil and Steve retired from the U.S. Ski Team and World Cup racing, wanting to spend more time with their families.
Over the course of their nine-year careers on the White Circus, Phil and Steve accounted for a total of 36 career World Cup victories, 27 for Phil and 9 for Steve. In addition, Phil earned a trio of consecutive Overall World Cup titles, while sharing three Olympic medals and a pair of World Championships medals.
"Fortunately," Phil concluded, "I was gifted, and I also had a twin brother who pushed me in the sense that I always wanted to beat him. And yet, at the same time, his victories were sort of my victories too. It's hard to explain."
The 2011 Korbel American Ski Classic is a project of the Vail Valley Foundation. For additional information on the Ski Classic or the Foundation, visit www.vvf.org.

---

66 Comments on "Legendary Mahres brothers to get hall of fame nod at Korbel American Ski Classic in Vail"