Maui Jim signs Olympic skier and celebrated fisherman Andy Mill in time for American Ski Classic in Vail
Maui Jim, Inc., today announced that it will add famed alpine U.S. Ski Team Racer and two-time Olympian, Andy Mill, to its roster of distinguished Ambassadors. Mill will make his first appearance as an Ambassador at the American Ski Classic this week at Vail Mountain, March 23-27.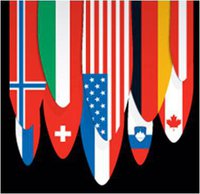 Guests to the Maui Jim tent on Saturday afternoon, March 26, can meet Mill, get his autograph and register to win dinner and the chance to be the first skiers down the mountain on Sunday, March 27, with him.
"Andy Mill will be a terrific ambassador for Maui Jim because his expertise encompasses so many sports that our enthusiasts enjoy," said Linda Glassel, vice president of marketing for Maui Jim. "Skiers appreciate our glasses because of the superior glare reduction that allows them to better see the variations on the slopes. Fishermen put on our glasses to better see through the water. Andy epitomizes the best of skiing and fishing. We're looking forward to working with him."
Mill was primarily a downhiller, and was the best in the US in that event from 1974-81. He also skied the World Cup circuit from 1974-81 with seven top 10 finishes, all in downhill or combined. He then began a career in the ski industry, working as a ski racing commentator on television, and with a syndicated show that is shown in many of the major US ski areas, called "Ski with Andy Mill."
Mill later took up tarpon fishing. He won five Gold Cup tarpon tournaments; and won the Triple Crown of tarpon fishing, winning the Gold Cup, Hawley, and Golden Fly events. Mill is the author of, A Passion for Tarpon, a book that has been described as the most technical and up-to-date book about how to catch giant tarpon with a fly rod. It is a master class in fishing, with no short cuts; and features first-hand collected knowledge by Mill a on the development of flies and tackle, fishing techniques, tarpon research, conservation and more.
This week Mill will join Maui Jim and hold autograph sessions in the Maui Jim tent at the American Ski Classic on Saturday afternoon, March 26. Guests who visit the tent have the chance to win dinner with Mill and his wife. If you're an avid skier, Mill will ski with two lucky winners, making first tracks down Vail Mountain on Sunday morning, March 27, before Ski Classic activities.
For more information, visit us online at
Maui Jim American Ski Classic
.
---

26 Comments on "Maui Jim signs Olympic skier and celebrated fisherman Andy Mill in time for American Ski Classic in Vail"