Ski Cooper early bird season pass special offers $199 deal through April 8
Ski Cooper Tuesday announced that 2011-2012 season passes may be purchased through April 8 at a discounted price of $199 for adults and $99 for children ages 6 – 14 years old.
"Colorado skiers and snowboarders can get a jump on the 2011-2012 ski season at Ski Cooper for a significantly discounted price," stated Bob Casey, Ski Cooper's Marketing Manager. "We are always excited to offer affordable lift tickets to everyone in Colorado each season, and this deal is unbeatable."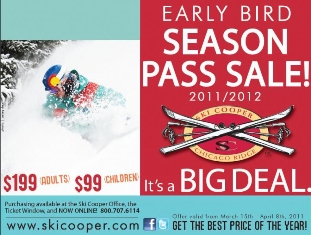 Season passes can be purchased online at www.skicooper.com no later than April 8, 2011. Snow riders may also purchase next year's season pass at the Ski Cooper ticket window through closing day on April 3, or by printing the order form on the website and mailing it in before April 18. Please see website for conditions governing season pass use.
With its base at an altitude of 10,500 feet, a summit at 11,700 feet, Ski Cooper is Colorado's fifth oldest ski resort. It offers 2,400 skiable acres of world-class, affordable skiing, snowboard, tele-skiing and snow cat tours in heart of Colorado's Rocky Mountains. Its rich history embraces Leadville's silver boom, the 10th Mountain Division's training for World War II, and more. Lifts open at 9:00 a.m. and close at 4:00 p.m., and the rental shop is open 8:30 a.m. – 4:30 p.m.
Ski Cooper – where there is something for everyone and Less IS more. For more information, call (719) 486-3684 or visit www.skicooper.com.
---

23 Comments on "Ski Cooper early bird season pass special offers $199 deal through April 8"