Researchers at the Steadman Philippon Research Institute Develop New Anatomic Reconstruction Technique for MCL Knee Injuries
Institute states that there are acceptable treatments to repair medial collateral ligament (MCL) injuries, but that its is most effective long-term
The Steadman Philippon Research Institute has recently developed and validated a new anatomical knee reconstruction technique for MCL knee injuries. The Institute, a world leader in orthopedic sports medicine research and education, claims that while there are many procedures to treat MCL tears and injuries, its technique is the most effective for long-term viability. The procedure repairs the ligament by restoring original stability to the knee by replacing torn structures with tissue at their anatomical attachments points.
Dr. Robert LaPrade, complex knee injury surgeon and Director of the Biomechanical Department at the Steadman Philippon Research Institute, along with Deputy Director, Dr. Coen Wijdicks, recently published their findings relating to the medial collateral ligament (MCL) in various peer-reviewed journals.
Orthopedic surgeons believe that young athletes who are involved in high-impact sports such as football, soccer, snow skiing and ice hockey, where knee flexion is present and external rotation and combined force impacts occur, are at greater risk for developing an MCL knee injury. The medial collateral ligament (MCL) is located on the inner side of the knee joint and represents one of the four major ligaments within the knee. MCL knee injuries and other conditions associated with medial knee stabilizers occur in about 24% of the knee injuries reported in the United States each year.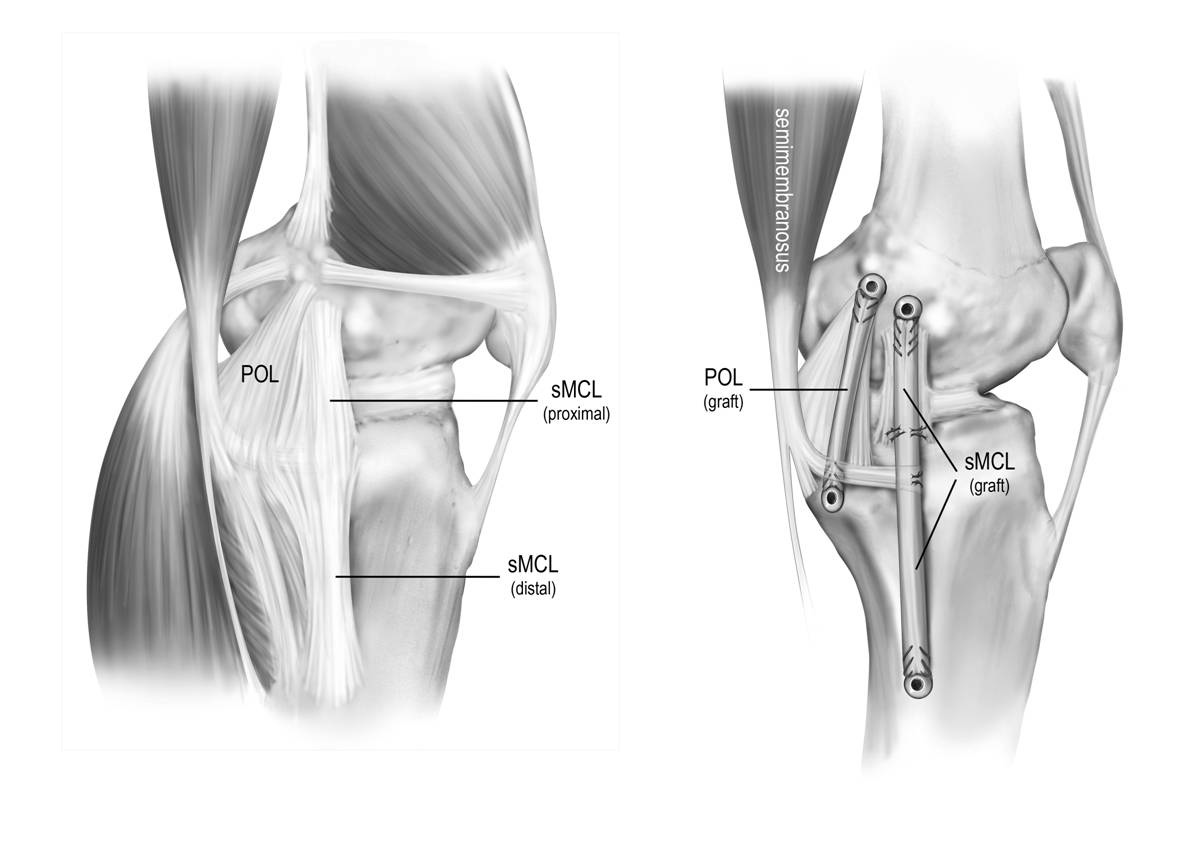 Doctors and scientists at SPRI confirmed through biomechanical testing that an anatomic medial knee (MCL) reconstruction technique can restore native stability to the knee that has a chronic medial knee injury. Through this testing, the precise position and mechanics of the ligaments in healthy knees was determined and a tendon from the patient (also referred to as an autograft) was used to reconstruct the injured ligament by placing it in the exact anatomically correct location.
SPRI is dedicated to providing research outcomes for orthopedic surgeons worldwide. In many countries, where tissue banks simply do not exist, this procedure provides a practical approach because the tendon used during the procedure comes directly from the patient. The procedure can also be performed with an allograft, which is tissue that has been harvested from a cadaver. This anatomic procedure provides a viable option for patients that may require surgery and has been validated for superior outcome because it is stronger, conforms better to the other structures of the knee and provides the same dynamic range of motion that the natural ligament allowed.
Researchers at SPRI continue to develop influential procedures for the restoration, preservation and reconstruction techniques for joints. More information can be found at http://www.sprivail.org.



About The Steadman Philippon Research Institute
The Steadman Philippon Research Institute (SPRI) is dedicated to keeping people of all ages physically active through orthopaedic research and education in arthritis, healing, rehabilitation, and injury prevention. Founded in 1988 by orthopaedic surgeon Dr. Richard Steadman as the Steadman Sports Medicine Foundation, the IRS Code 501(c)(3) charitable organization has influenced the practice of orthopedics throughout the world. Based in Vail, Colorado, it has become one of the most published organizations in sports medicine research and education.

---

16 Comments on "Researchers at the Steadman Philippon Research Institute Develop New Anatomic Reconstruction Technique for MCL Knee Injuries "