EFEC School of Rock benefit concert set for Saturday in Minturn
This Saturday, August 24, 2013 the Rocky Mountain Grateful Dead Review with Rob Eaton, Jim Allard, and Jake Wolf, and Minturn's Turntable Review with Joe Bianchi and Terry Armistead are donating their talents to raise funds for elementary school music education in Eagle County.
Due to Colorado's reduction in per student funding, Eagle County School District was forced to reduce their annual budget by $14 million in the past three years. These cuts have had significant impacts on local schools. As a result, music education has been effected and elementary school music classes have grown to over 30 students per class in order to accommodate all students during limited music teacher instruction hours. The proceeds from the concert will benefit Eagle County School's elementary music education programming.
Over the summer EFEC hosted two summer camps where local children learned to paly the ukulele and to read and write music. Children who participated in the camp will also be performing at the concert.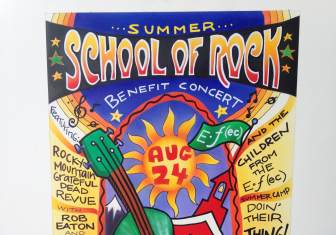 "We hope the community will join us for music, hula hooping, food, and fun to support music education in our valley" said EFEC Trustee, Molly Gallagher, who volunteered her time to coordinate the summer camps and the concert.
The concert is a great opportunity for families and friends to connect and work together for a good cause. With the help of the entire community, local Eagle County schools can continue to be some of the best in Colorado.
Special thanks to event donors and sponsors including, Vail Resort ECHO, Continental Divide Cabins, Shen, Alpine Insurance Agency, Crazy Mountain Brewing Company, Campout for the Cause, Vail Real Estate Center, and the Town of Minturn. If you can't make the event, we hope you'll consider making a donation at www.efec.org.
What: EFEC Summer School of Rock Benefit Concert
Where: Little Beach Park Amphitheater, Minturn,
When: Saturday, August 24, 2013 – 4:00-7:30 pm
Cost: $25/adult (includes one drink ticket) – KIDS FREE
EFEC is dedicated to improving the quality of public education by attracting, procuring, and effectively distributing resources in support of our schools, teachers, and students. For more information on the organization or to make a worthwhile contribution, go to www.efec.org. Be part of the solution!
---

315 Comments on "EFEC School of Rock benefit concert set for Saturday in Minturn"