Universal Sports increases ski-racing profile through new deal with Time Warner Cable
Multi-year contract comes just in time for 2014 Winter Olympic season
In advance of the February 2014 Winter Olympics in Sochi, Russia, ski and snowboard fans got a big boost this week when Universal Sports Network announced a new multi-year TV distribution deal with Time Warner Cable (TWC) -- the second-largest U.S. cable system operator.
Universal Sports Network, which is also available on Direct TV, will now be available in more than 40 million U.S. homes, including major markets such as New York City and Los Angeles.
The distribution deal includes coverage of International Ski Federation (FIS) World Cup events featuring international alpine skiing stars and Olympic medal favorites such as Vail's Lindsey Vonn, Bode Miller (Franconia, N.H.), Ted Ligety (Park City, Utah) and Eagle-Vail's Mikaela Shiffrin.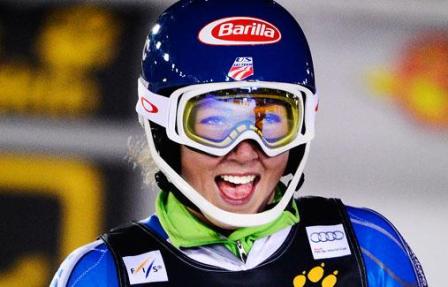 "Maximizing exposure for U.S. Ski Team athletes is a major priority for the USSA and this agreement between Universal Sports Network and Time Warner further helps that initiative," said Mike Jaquet, Chief Marketing Officer, U.S. Ski and Snowboard Association. "We are encouraged that Time Warner Cable has seen the value in this and will continue to work with our partners at Universal Sports Network to continue to build out this very valuable platform."
Universal's exclusive year-round coverage of Olympic and endurance sports programming, including the FIS World Cup, will be available to TWC's Sports Pass subscribers in the majority of TWC markets later this summer. The deal also gives TWC comprehensive TV Everywhere rights, VOD content and Universal Sports Max, a secondary events broadband channel.
"Time Warner Cable customers will soon be able to enjoy the year-round coverage of championship sports programming found only on Universal Sports," said Alexis Johnson, Vice President of Content Acquisition, Time Warner Cable. "We are delighted to be able to provide our Sports Pass subscribers with access to coverage of the Olympic sports they love on multiple platforms."
Universal Sports Network has the exclusive U.S. distribution rights for the Olympic qualifying FIS World Cup tour, including alpine, nordic, snowboarding, freeskiing and freestyle tours. And Universal Sports has been the home for season-long coverage of the Audi FIS Alpine World Cup, along with bringing other FIS events like the cross country Tour de Ski to America.
"We are thrilled that Time Warner Cable sees value in Universal Sports Network," said Scott Brown, President, Universal Sports Network. "We look forward to serving Time Warner Cable's customers with exciting, global sports coverage on multiple platforms."
---

17 Comments on "Universal Sports increases ski-racing profile through new deal with Time Warner Cable"