Beaver Creek to celebrate Fourth of July with Jack Ingram concert, clambake, fireworks
Celebrate the birth of our nation under the blue skies of Beaver Creek on Thursday, July 4 with an evening concert by Jack Ingram and the 21st annual Beano's Cabin clambake earlier in the day.
Also throughout the day, enjoy the Stars, Stripes & Slides festivities including inflatable slides, jumping castles and other activities for the whole family. Join us for the concert at the base of the Centennial Express chairlift in Beaver Creek Village; music kicks off at 6 p.m. with The Williams Brothers and then Jack Ingram takes the stage at 8 p.m. Both the Stars, Stripes & Slides activities and the concert are complimentary. Stick around for the fireworks show at 9:30 p.m.
Concert gates open at 5:00 p.m. and food and beverages will be available for purchase. As one of the most popular artists on today's country music scene, Jack Ingram will light up the stage with his hits including the summer favorite "Barefoot & Crazy".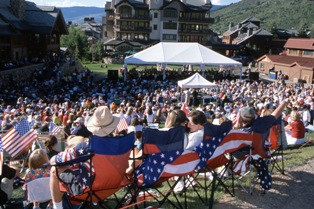 "Beaver Creek is excited to host its traditional Fourth of July celebration with the musical talents of Jack Ingram," said Tim Baker, executive director of Beaver Creek Resort Company. "We are also looking forward to the fireworks show taking place in Beaver Creek Village after the concert. It's sure to be a memorable celebration for the whole family."
Beano's Cabin hosts its annual Fourth festivities from 11 a.m. to 4 p.m. featuring a mid-mountain clambake and live entertainment. Chef Bill Greenwood's menu highlights include a New England style clambake, Berkshire pulled pork, oysters, crab claws and more. Kids can enjoy mac' n' cheese and chicken fingers. The cost is $55 for adults, $25 for kids 6-12 and kids 5 and under dine for free. Live entertainment and classic lawn games also will be available. Reservations should be made in advance by calling 970-754-3463.
During the day, explore other outdoor activities at Beaver Creek including scenic chairlift rides, hiking, mountain biking, golf, horseback riding and more. Early evening head to the beach front lawn for live music and food and beverages to top off this celebration for all ages.
For more information on the Fourth of July in Beaver Creek and other summer events and activities, visit www.BeaverCreek.com or call the Beaver Creek Information Center at (970) 754-4636.
---

3 Comments on "Beaver Creek to celebrate Fourth of July with Jack Ingram concert, clambake, fireworks"