Collin Meyer named new executive chef at Vail's Game Creek Restaurant
Vail Mountain recently announced the appointment of Collin Meyer to executive chef of Game Creek Restaurant. The restaurant opened for the summer season on Thursday, June 20 under Meyer's leadership.
"Game Creek Restaurant has long been an exceptional dining experience for Vail guests," said Chris Jarnot, chief operating officer and senior vice president of Vail Mountain. "I'm confident that Chef Meyer's culinary expertise combined with his passion for excellence in food will be a recipe for continued success for the restaurant."
Meyer has worked at Game Creek Restaurant since 2009 and carries with him a strong culinary talent and background in the restaurant business. He received a degree in culinary arts from Le Cordon Bleu College of Culinary Arts – Scottsdale, Ariz., and has worked at the DC Ranch Country Club in Scottsdale, Ariz., the Addison Reserve Country Club in Delray Beach, Fla., and at Grouse Mountain Grill in Beaver Creek.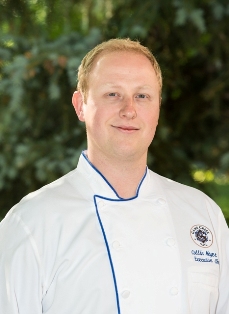 Fine dining is Meyer's passion and he has dedicated his life to it, spending personal vacation time traveling to culinary destinations around the globe to experience some of the world's finest restaurants and prompt new ideas that he can bring back to the kitchen with his own twist.
"I'm thrilled to take on the position of executive chef at Game Creek Restaurant," Meyer said. "I look forward to stepping into this leadership role and bringing fresh ideas to the table while helping to further Game Creek's reputation as a premiere dining experience in Vail."
Located in an old-world chalet nestled within Vail's Game Creek Bowl, Game Creek Restaurant offers distinctive American cuisine with all-natural and organic products and the freshest ingredients, an award-winning wine list, and superior service complimented by magnificent views and sunsets.
Throughout the summer season guests can enjoy late-afternoon drinks and appetizers on the deck or a complete culinary experience with a three- or four- course dinner menu, plus an optional chef's menu beginning at 5:30 p.m. every Thursday through Saturday. Sunday brunch is also served each week including fresh fish, pastries, braised meat and more. Reservations are encouraged and can be made by calling (970) 754-4275.
For more information about Vail Mountain visit www.vail.com, or stop by the Mountain Information Center, open daily from 9 a.m.–4:30 p.m., or call (970) SKI-VAIL (754-8245).
---

4 Comments on "Collin Meyer named new executive chef at Vail's Game Creek Restaurant"