Trail running series continues with Summer Solstice race at Beaver Creek
The Vail Recreation District's 2013 La Sportiva Vail Mountain Trail Running Series continues this week with the La Sportiva Summer Solstice Trail Run on Saturday, June 22, featuring a 5k walk/run, a 10k run and a kid's fun run on Beaver Creek Mountain.
The Summer Solstice race will benefit the Vail Valley Charitable Fund (VVCF) with racers enjoying free food from Moe's Original BBQ and music by local bluegrass favorite, Hardscrabble.
Festivities begin at 9:30 a.m. with the Vail Daily Kid's Fun Run, followed by the Beck Building Company 5k and the FirstBank 10k at 10 a.m. This is the second race in the seven race trail running race series, which is presented by Columbia Sportswear.
Proceeds from the race will benefit the VVCF, a non-profit organization founded in 1996 that provides financial assistance to residents of Eagle County who are experiencing a medical crisis.
According to Michelle Maloney, VVCF Executive Director, the VVCF raised and distributed more than $400,000 to locals in need last year and the trail run is important to its success.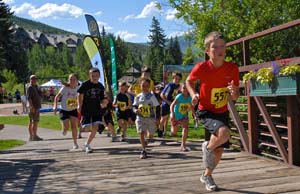 "We are very grateful for the support of our community in supporting the Vail Valley Charitable Fund," said Maloney. "There are so many people in our community experiencing financial hardship due to medical crisis. I would like to thank the Vail Rec District, Beaver Creek Resort Company and our many sponsors. We look forward to seeing you Saturday morning for a family event where everyone can experience the wonderful outdoors, some great food and music."
Day-of registration for the event begins at 8 a.m. in Beaver Creek Village. Entry fees are $35 in advance and $45 on race day with proceeds benefiting the VVCF. The kid's fun run is free. Registration is available by clicking here or at www.active.com. Bib pickup will also be available from 3 to 6 p.m. Friday (6-21) at Christy Sports in Vail Village.
Free parking for the Summer Solstice is available at the base of Beaver Creek Mountain in the parking garages on a first-come, first-served basis. Additional parking is available at the base lots with free shuttle transportation to Beaver Creek Village.
The race begins and ends in Creekside Park and Summer Solstice 09racers will run on single track and cat track trails including Beaver Creek Village Trail, Aspen Glade, Lost Buck Spur and Corkscrew. The 5k route gains 970 feet in elevation while the 10k gains 1,600 feet in elevation.
There is one aid station on the 5k course and two aid stations on the 10k course. Sponsors of the on-course aid stations are Brill Insurance Agency and East West Resorts with start and finish refreshments sponsored by Colorado Mountain Medical.

Prizes will be presented to the top three finishers of each age group at each race, with series prizes awarded to the top three finishers who compete in at least five events. La Sportiva will provide winners of each age category a pair of mountain running shoes of their choice. Raffle prize drawings also will be held at each race awards ceremony featuring products from area merchants and national companies.
Following the Summer Solstice, the La Sportiva race series will take runners back to Vail on Saturday, July 6 for the 37th running of the Vail HillClimb, which will take runners from the base of Vail Mountain to Eagle's Nest for 7.5 miles of uphill running.
At 8 a.m. on Sunday, July 21, runners will be challenged during the Vail Half Marathon, taking runners on a demanding 13.1 mile run on Vail Mountain. Following the Vail Half Marathon, beginning at 8 a.m. on Sunday, Aug. 4, the Berry Picker 5k trail run will take participants on an intense 3.2 mile climb from the base of Vail Mountain in Lionshead to Eagle's Nest at the top of Vail Mountain.
Runners will then enjoy spectacular views and trail running during the 5k and 10k@10,000 Feet, which takes place at 9 a.m. Sunday, Aug. 25 at the top of Vail Mountain with the majority of the race above 10,000 feet in elevation.
The final race of the season, the EverGold 5k and 11k, is scheduled for 10 a.m. on Sunday, Sept. 15 and will feature single and double track trails from the Vail Golf Club to Vail Mountain and back and showcase Vail's stunning fall foliage. A full listing and details are available by going to www.vailrec.com/trailrunningseries.cfm.
Partners and sponsors are being sought for the 2013 Trail Running Series with a variety of opportunities available. Joining 2013 series title sponsor La Sportiva and presenting sponsor Columbia Sportswear are Vail Resorts, Beaver Creek Resort Company, Dusty Boot, FirstBank of Vail, Vail's Mountain Haus, Apex Dental, Central Rockies Mortgage, Peter Rabbit Organics, Northside Coffee and Kitchen, HP's Provisions, Mountainsmith, Tiga Advertising, Howard Head Sports Medicine Centers, The Steadman Clinic, Steadman Phillipon Research Institute, Trail Runner Magazine, Anthem Branding, AmericInn, Gatorade, Elevation Outdoors, New York Life, KZYR 97.7, Road ID, Smartwool, Christy Sports in Vail Village, Trek Light, Optic Nerve and Camelbak.
Volunteers are needed at each race and will receive a T-shirt and other items for their help.
For more information or to become a race series sponsor, call the VRD Sports Department at 970-479-2280 or go to www.vailrec.com/trailrunningseries.cfm.
---

15 Comments on "Trail running series continues with Summer Solstice race at Beaver Creek"