Anders Osborne replaces Grouplove for free GoPro Mountain Games concert in Vail
An unfortunate recent family loss has forced the band Grouplove to cancel their scheduled Saturday Bud Light Mountains of Music performance in conjunction with the GoPro Mountain Games in Vail.
The Vail Valley Foundation, which owns and operates the annual celebration of mountain sport, lifestyle and music, has been able to rebook the free show, which will now feature the jam band rock and blues of Anders Osborne. Saturday's performance is scheduled to get underway at 7 p.m. at Check Point Charlie in Vail Village.
"We were saddened to learn of the band's loss," explained Ceil Folz, president of the Vail Valley Foundation, "and our thoughts and prayers are with them. We completely understand their need to alter their performance schedule and we are pleased to have the chance to bring Anders Osborne back to the Vail Valley."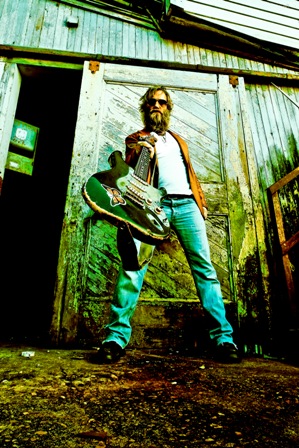 Between the sheer force and potent lyricism of his guitar playing, the riveting depth of his songwriting and the straight-from-the-soul conviction of his vocals, New Orleans' Anders Osborne is among the most original and visionary musicians writing and performing today.
Since the release of his 2010 Alligator Records debut, American Patchwork, Osborne has toured virtually non-stop, performing with his own band, solo with Keb Mo, with The Stanton Moore Trio, alongside Karl Denson's Tiny Universe and with Luther Dickinson as well as with The Voice Of The Wetlands All-Stars.
In 1985, after landing in New York with only $5 in his pocket, Osborne hitchhiked to New Orleans to meet up with a friend.
"Once I got to New Orleans, everything I heard in my head — the music, the way people treated each other — was happening," offered Osborne. "I knew I was home."
He naturally absorbed the spirit of the Crescent City into his soul, as he was fully embraced by the city's vibrant music community. Shortly after moving there, he found out that his grandfather, a sailor, had lived in New Orleans for many years. His grandfather then began telling him vivid stories of the city, and sharing old photographs.
"I just felt connected to his memories," Osborne added, "and I knew I was where I was supposed to be."
Since his recording debut in 1989, Osborne has written virtually all of his own material and contributed memorable songs to a wide variety of artists. Two tunes co-written by Osborne appear on blues great Keb Mo's Grammy-winning 1999 release Slow Down. Country superstar Tim McGraw scored a #1 hit with Anders' song "Watch the Wind Blow By", while Osborne's compositions have been covered by artists as diverse as Brad Paisley, Tab Benoit, Jonny Lang and Kim Carnes.
His song "What's Going On Here" appeared in the 1996 feature film Fled, and Osborne, along with Ivan Neville, wrote and recorded the title track for the 2010 Kate Hudson film Earthbound. He can also be seen performing in a recent episode of HBO's New Orleans-based drama, Treme.
The GoPro Mountain Games and Bud Light Mountains of Music are projects of the Vail Valley Foundation. For more information on the Mountain Games, visit www.gopromountainsgames.com. For additional information on the Vail Valley Foundation, check out www.vvf.org.
---

32 Comments on "Anders Osborne replaces Grouplove for free GoPro Mountain Games concert in Vail"