World's best climbers to converge on Vail for 2013 GoPro Mountain Games
The 2013 GoPro Mountain Games will host some of the best competitive climbers in the world at the only International Federation of Sport Climbing (IFSC) World Cup Bouldering event on U.S. soil. An international field of climbing superstars will face off on Friday and Saturday, with the finals taking place on the massive climbing wall at Vail's Golden Peak at 5 p.m. on Saturday, June 8.
Athletes free climb the man-made climbing structure and are scored based upon their ability to complete a succession of increasingly difficult routes throughout several rounds of competition. The competitor's score is determined by the overall number of routes completed, the number of attempts needed and is also affected by the climber's ability to reach a bonus hold set within the course.
At this year's Games, the perennial power-couple from Austria, Anna Stohr and Killian Fischhuber, returns looking to three-peat the IFSC World Cup event in Vail. Both Anna and Killian have taken the last two Mountain Games championships and were also medalists at the 2012 world championships.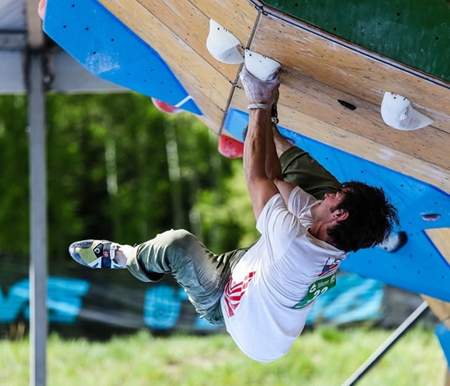 There are several strong American climbers that will be hoping for an upset, including Alex Puccio who is currently ranked fourth on the World Cup women's circuit and is eager to move up the list with a strong performance on home soil. Daniel Woods will be looking for a return to greatness on the men's side, having last won at the Mountain Games in 2010. In addition, national champions from both the U.S. and Canada will be in attendance with Peter Dixon (U.S.) and Sean McColl (Canada) each looking to reach the top podium step.
On Sunday, June 9 at 11 a.m. the climbing wall will be open to a citizen's competition, giving aspiring climbers the chance to compete on the same venue as the pros, with over 32 graded climbing problems to choose from. Earlier in the day, the wall will be open for youngsters, with Youth Bouldering competitions kicking off at 8 a.m.
The GoPro Mountain Games are the nation's largest celebration of mountain sport, lifestyle and music featuring top professional and amateur athletes from around the world. The environmentally-friendly adventure sporting event hosts approximately 3,500 outdoor athletes, along with an estimated 45,000 spectators.
Athletes converge on Vail's mountains and rivers to compete in nine sports and 25 disciplines for over $100,000 in prize money. Events include kayaking, rafting, stand up paddling, mountain biking, road cycling, World Cup Bouldering, amateur climbing, fly-fishing, trail running, the slackline world championships and a half marathon.
Additional events at the GoPro Mountain Games include: a film series, Outdoor Reels; a photography competition, Mountain Click; an interactive expo area, Gear Town; DockDog canine competitions and free concerts at Mountains of Music. The GoPro Mountain Games are a project of the Vail Valley Foundation. www.gopromountaingames.com / 888.883.VAIL(8245)
---

3 Comments on "World's best climbers to converge on Vail for 2013 GoPro Mountain Games"