Annual Vail Mountain cleanup scheduled for June 18
Vail Mountain and Vail Resorts Echo invite community volunteers to join employees for the annual mountain cleanup, scheduled for Tuesday, June 18.
"Vail's mountain cleanup is a great opportunity for employees and the community to give back and get our beautiful mountain ready for summer guests to enjoy," said Adam Bybliw, environmental manager for Vail Mountain. "We look forward to seeing a great turnout of volunteers to lend a helping hand this year. With the cleanup based out of Vail Village via Gondola One we're also looking forward to accessing different areas of the mountain than in years past."
Volunteers are highly encouraged to pre-register with the Mountain Information Center and complete release waivers prior to cleanup day. On cleanup day, all volunteers should meet at the base of the Gondola One in Vail Village by 9 a.m. with their own work gloves, water, sun block, hat, snacks, sturdy hiking shoes and clothing for inclement weather. A limited supply of gloves for cleanup will be made available. Teams will be transported up the mountain at 9 a.m., provided with trash bags and directed to specific cleanup sites. In the case of severe weather, a decision will be made the morning of the clean up whether or not to continue or postpone the cleanup.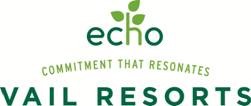 Beginning at noon, the Vail Mountain dining staff will host a complimentary barbecue at Sarge's Grill at Mid-Vail for all volunteers, at which time a single-day complimentary lift ticket voucher for the 2013-2014 winter season will be distributed to volunteers. After lunch, teams will meet again to continue cleaning and hike down to the base area on assigned trails. Those who choose not to walk down the mountain may download the gondola.
To pre-register, provide your name and the number of people in your party to the Mountain Information Center in Lionshead, open Monday through Friday from 9 a.m. – 4 p.m. and daily beginning Thursday, June 20. Or, call (970) 754-VAIL (8245). All volunteers will need to complete and sign a liability release form and bring it with them on the day of mountain cleanup in order to participate. Liability releases are available in the Mountain Information Center or online at www.vail.com/mountaincleanup.
Vail Resorts Echo, the Company's social responsibility and environmental stewardship program encompasses three core efforts – charitable giving, volunteerism and environmental stewardship. For more information, visit www.vailresortsecho.com. For more information about Vail Mountain visit www.vail.com.
---

2 Comments on "Annual Vail Mountain cleanup scheduled for June 18"