Vail Golf Club opens all 18 holes
The Vail Golf Club will open 18 holes for play Saturday and Sunday, offering some of the best rates in the mountains. Play will be available for $42 for nine holes and $64 for 18 holes, including cart.
The course is open from 9 a.m. to 6 p.m. daily and due to early season conditions, carts are restricted to paths at this time. Additionally, hole 15 will play on a temporary green.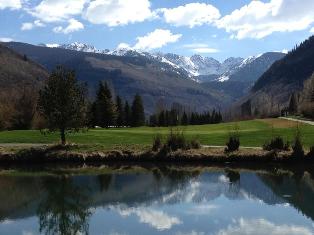 According to Vail Golf Club Director Alice Plain, maintenance crews have been doing an excellent job prepping the course and its ready for play. "The course is playing great and we're looking forward to a wonderful summer in Vail," said Plain.
The driving range is currently open from 9 a.m. to dusk daily. Golf lessons are offered on both the range and the course. Clinics, including Play with the Pro, Coors Coaching Hour, Senior Clinic, Couples Clinic, Get Ready Golf and Lessons, Ladies and Libations, will begin in mid-June. Happy Valley Grill also has the starter building open, featuring great snacks and drinks at great prices.
For more information or to book a tee time, click here or call the Vail Golf Club at 970-479-2260.
---

1 Comment on "Vail Golf Club opens all 18 holes"