Vail Valley Foundation announces schedules for free Hot Summer Nights, ShowDown Town concerts
With rain and more rain in the forecast, locals and visitors have warm weather and free concerts to look forward to, kicking off June 18 with Freddy Jones Band – a roots rock band from Chicago with a reputation for expansive and energetic live shows –at the Gerald R. Ford Amphitheater at 6:30 p.m.
Bud Light Hot Summer Nights will continue on Tuesdays through August 27, presenting a variety of free concert options, from indie rock/Americana and blue grass, to funky jazz, blues and reggae. New this year, the Vail Valley Foundation will also feature "Hot Summer Happy Hour," offering food and drink specials at the amphitheater from 5:30-6:30pm before the concert kicks off.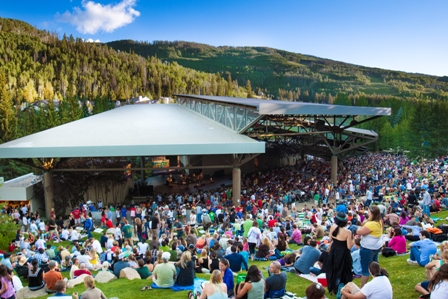 Following the kickoff to free summer concerts in Vail is ShowDown Town in Eagle, which kicks off Thursday, July 11 with Eminence Ensemble. Based in Boulder Colorado, Eminence Ensemble strives to share a deep and multifaceted musical experience, while staying true to the tradition of Rock and Roll.ShowDown Town shows will then continue on Thursdays throughout the summer, wrapping up on Thursday, August 15.
The Vail Valley Foundation is celebrating more than 25 years of free concerts in the Valley this year. All shows inthe Hot Summer Nights and ShowDown Town lineups are free to the public, with doors opening at 5:30 pm and concerts starting at 6:30pm.
"Free concerts are one of our favorite summer pastimes and ways of celebrating our community here in the Vail Valley," said Jennifer Mason, Director of the Gerald R. Ford Amphitheater. "We can't wait to open our doors for the Summer 2013 season."
The Gerald R. Ford Amphitheater is located east of Golden Peak at Ford Park in Vail. Concert attendees are asked to park at the main Vail Village parking structure, with overflow parking at the Lionshead parking structure. For added convenience, the free Town of Vail shuttles will run extended routes past Golden Peak from 5:30-9:30pm, with a drop off at the soccer field near the Ford Amphitheater. Additionally, a special Village-to-Village express bus will run from 4-9:30pm with stops at the east entrance of the Lionshead parking structure, in front of the Vail Village Information Center and at Ford Park.
Once inside the concert venue, picnics with commercially-sealed non-alcoholic beverages are permitted, as are legless lawn chairs, blankets and umbrellas. Bikes, skateboards and dogs are prohibited at the Amphitheater. A concession area with a full grill and bar service is available.
ShowDown Town Concerts take place at Eagle Town Park in Eagle and offer weekly kids activities that are sure to entertain all ages. Pack a picnic or visit one of the food vendors on hand. All Shows begin at 6:30pm. For more information on the Vail Valley Foundation's free concert series, like "Vail Free Concerts" on Facebook and visit us online at www.vvf.org.
2013 BUD LIGHT HOT SUMMER NIGHTS SCHEDULE
Tuesday, June 18 Freddy Jones Band
Tuesday, June 25 TheDunwells
Tuesday, July 2 Honey Island Swamp Band
Tuesday, July 9 The Revivalists
Tuesday, July 16 Robert Randolph &The Family Band
Tuesday, July 23 Hot Summer Nights & Vail International Dance
Festival's 8150 Urban Dance Challenge)
Tuesday, August 13 Robert Walter's 20th Congress
Tuesday, August 20 Mountain Standard Time
Tuesday, August 27 Ky-Mani Marley
2013SHOWDOWN TOWN SCHEDULE
Thursday, July 11 Eminence Ensemble
Thursday, July 18 Dixie Leadfoot
Thursday, July 25 Rob Drabkin Band
Thursday, August 1 TheOriginial Shakedown Street
Thursday, August 8 By All Means
Thursday, August 15 Grant Farm

---

22 Comments on "Vail Valley Foundation announces schedules for free Hot Summer Nights, ShowDown Town concerts"