Youth Foundation teams with Alpine Arts Center, local artist Britten to raise funds for art scholarships
What do you get when you combine a committed local artist, a pair of youth-oriented organizations and the need to help raise much-needed funds for youth art scholarships? How about a one-of-a-kind art sale at one of the valley's most popular sushi bars, Sato in Edwards?
Local artist Britten recently joined forces with The VVF's Youth Foundation and the Alpine Arts Center's Youth Foundation to raise money for the Art Center's Scholarship Program, donating a number of her paintings to help maintain and expand these programs. The exhibit offerings, painted steel suspended in Plexiglas, are available for a limited time and priced from $795 to $950. Fifty percent of the purchase price willbenefit the scholarship fund.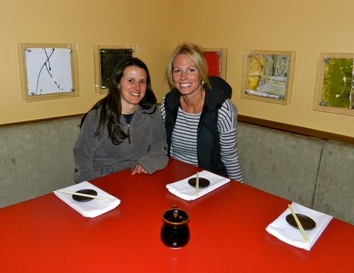 Growing up in San Francisco and studying art in Florence, Italy has given Britten a wide range of artistic abilities, finding her true expression in the contemporary art world. As an artist, Britten recognizes the importance of art in her own life and would like to provide that same opportunity for youth throughout the Vail Valley community.
"Creativity is not owned by anyone," explained the artist, "it is an energy that manifests whatever is needed. And so I paint, with the intention that the viewer is able to experience exactly what drew him or her to the painting, lighting the spark of creation within."
The Youth Foundation and the Alpine Arts Center offer youth art scholarship programs in mediums including painting, drawing, ceramics, sculpture, mixed media, photography, jewelry and more. The programs provide youth with the opportunity for creativity and a chance to supplement school art curriculums that have been cut back in recent years. Programs are offered in 6-8 week sessions during the school year, with week-long summer camps and classes also available.
"We are grateful for Britten's generosity," offered Lauren Merrill, owner of Alpine Arts Center, "and we are excited about the new opportunities that will open up for children in our community as a result. As schools in our valley are forced to cut back on art programs, we are doing our best to make sure every child is able to experience art and we are so appreciative to The Youth Foundation for making this program possible."
Alpine Arts Center is currently accepting scholarship applications for summer camps. Details on how to apply for scholarships or how to make a donation to the scholarship fund can be found at www.alpineartscenter.org.
To learn more about The Youth Foundation, visit www.theyouthfoundation.org. The Youth Foundation is the educational arm of the Vail Valley Foundation.
---

13 Comments on "Youth Foundation teams with Alpine Arts Center, local artist Britten to raise funds for art scholarships"