Local kids can earn a chance to sing on stage with Clay Aiken
The Vilar Performing Arts Center in Beaver Creek is embracing the spirit of American Idol in honor of its Tuesday, Dec. 18 performance — Clay Aiken's Joyful Noise Tour.
Students in the Vail Valley, with the help of a parent, are invited to submit YouTube videos of themselves singing their favorite song by no later than noon mountain time on Monday, Dec. 17.
The VPAC will then let the public decide who gets to sing on stage with Clay Aiken, by tallying the views for each video. Entrants should submit their YouTube links via email to kpeters@vvf.org. Videos will then be added to a playlist on the Vail Valley Foundation's YouTube account, where the public can view the videos to vote. Voting and viewing will take place here: http://bit.ly/VPAC. The winner will be announced at 5 PM MST on December 17.
"Cultural education is tied to everything that we do at the VPAC, so this contest seemed like a natural extension of our youth programs like First Notes and STARS, said Kris Sabel, Executive Director of the VPAC. "I know from witnessing some of our community performances that we have some talented students in this Valley, and we look forward to seeing the submissions come in. Mr. Aiken is extremely involved in philanthropic youth initiatives as well, and I know he'll be excited to invite our winner on stage."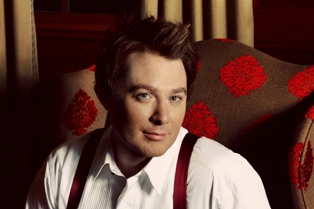 Clay Aiken first gained national attention on the second season of American Idol in 2003, and has evolved into a versatile and beloved popular entertainer, with five well-received albums released that sold more than 6 million units as of 2011.One such album,"Merry Christmas with Love,"stands as the fastest selling Christmas album in history.
Throughout his career, Aiken has continuously been a supportive activist on behalf of children. As he has often explained, "My music career has allowed me to do the same thing I was doing before—work with kids. It has just given me a bigger stage, so I can enact change on a grander scale." Clay has been an ambassador for UNICEF since 2004; the same year he started the National Inclusion Project with co-founder Diane Bubel. NIP supports the integration of children with disabilities into the same environments as their non-disabled peers.
VPAC audience members can expect to hear some of their holiday favorites on Tuesday night from famed tenor Clay Aiken, along with some of his own work and of course, his beloved renditions of the classics. The performance starts at 7:30 pm. Tickets are $78, and will be offered at a special rate for students participating in the "Win a Chance to Sing On-Stage with Clay" contest. Participating families should contact the VPAC box office at 970-845-TIXS to redeem this special offer. In addition, the winner will receive two free tickets to attend the performance with their parent.
Tickets for Clay Aiken's Joyful Noise Tour and all other performances in the VPAC's Winter Series are on sale now and available online at vilarpac.org, by phone at 970.845.TIXS or in person at the VPAC Box Office in Beaver Creek.

The Vilar Performing Arts Center is a project of the Vail Valley Foundation. For more information on the Vail Valley Foundation, visit www.vvf.org.

---

40 Comments on "Local kids can earn a chance to sing on stage with Clay Aiken"