Recent snowfall allows Vail Nordic Center to open
Recent snowy weather has allowed the Vail Nordic Center to open terrain for cross country skiing and snowshoeing.
Open 9 a.m. to 5 p.m. daily, the Nordic Center is offering 10k of rolled ski terrain and 10k of separate snowshoe trails. Early season conditions exist. Discounted season pass sales end Dec. 15 and are available for $80 for adults, $40 for students and are free for ages 12 and under.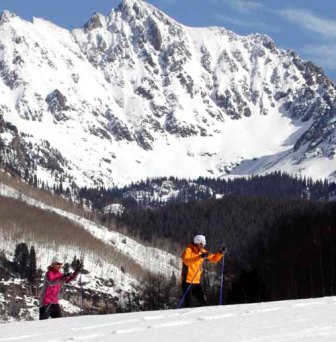 According to Vail Nordic Center owner Mia Stockdale, in celebration of the recent snowfall, the Nordic Center is offering a $5 daily use fee for a limited time.
"We're excited to offer terrain and officially kick-off Nordic programs in Vail," said Stockdale. "The Vail Rec District is rolling the course daily and they'll get the snowcat out grooming the trails when conditions permit. Now is a great time to get out and skate, ski and shoe around the trails available and enjoy the wintery weather."
Additionally, the Nordic Center is offering a full Nordic skate ski set up for $450, which includes boots, skis and poles. The center also has a variety of great gear including clothing for cross country skiing, snowshoeing, winter running and hiking, plus skis, wax, boots and poles. Lessons are available by appointment. Once conditions permit, a full lineup of lesson programs will be available.
The Nordic Center is located in the Vail Golf Club and on the Town of Vail's free shuttle system. Parking is also available and is free for Nordic users.
For more information, call the Nordic Center at 970-476-8366 or go to www.vailnordiccenter.com.
---

49 Comments on "Recent snowfall allows Vail Nordic Center to open"