KZYR's first annual Old-Fashioned Christmas to be held at Riverwalk in Edwards
KZYR Radio announces its first annual Old-Fashioned Christmas to be held on three Friday afternoons in December, sparking the holiday spirit leading-up to the Christmas season. The special holiday events will begin at 4pm and will be held at the Riverwalk at Edwards. Each Friday will feature unique traditions sure to inspire holiday cheer for all ages.
"The Vail Valley is such a magical place to spend the holidays," says KZYR station director Tony Mauro. "People from around the world come to our community to celebrate, and with the diversity of restaurants and merchants right here in Riverwalk, it's the perfect place to get everyone involved in a fun way."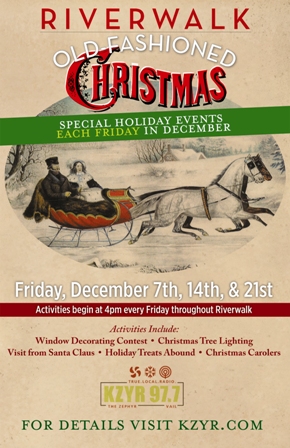 On Friday, December 7, ten holiday windows will be revealed, kicking off the event. The windows are designed and painted by local artists vying for prize money donated by Riverwalk merchants. "One of the most popular attractions in New York City are the holiday windows and we wanted to bring a little slice of that Big Apple tradition here," says Mauro. Also on December 7, the Kitchen Collage will host their annual Cookie Contest where people are asked to drop off a dozen of their best holiday delectables from noon – 5pm to be entered in the judging.
The 1st Annual Fruit Cake Open will be held on Friday, December 14 and members of the entire community are encouraged to participate in the contest. "The idea of the Fruit Cake Open is to debunk the myth that fruit cake is bad," says Riverwalk community manager Todd Williams. "We know there are some delicious secret family recipes – or maybe even new creations – out there and we're aiming to put a new name on fruit cake by pitting them against each other and having a panel of judges vote on their favorite."
On the final Friday of the event, December 21 will include a visit from the big guy himself, Santa Claus and the Riverwalk Community tree lighting, along with holiday book reading at The Bookworm. Christmas carolers and holiday treats will abound for all three weeks of the Old-Fashioned Christmas.
For more information on the Riverwalk Old-Fashioned Christmas, contact KZYR Radio at 970-926-7625 or visit www.kzyr.com.
If You Go
What: 1st Annual Riverwalk Old-Fashioned Christmas
Where: Riverwalk at Edwards
When: Fridays (12/7, 12/14, 12/21) at 4pm
Info: www.kzyr.com
---

184 Comments on "KZYR's first annual Old-Fashioned Christmas to be held at Riverwalk in Edwards"