Vail Symposium unveils its winter 2013 schedule
The Vail Symposium's Winter 2013 season kicks off December 5th with a lineup of fresh, unique, and thought provoking programs, two fundraisers, and one Signature Symposium Event.
"This season's lineup offers something for everyone," said Vail Symposium Executive Director Liana Moore. "From a panel discussion with some of Vail's first residents on the early days of Vail in honor of Vail's 50th anniversary to timely topics such as the mind of the mass murderer to this year's Unlimited Adventure series, which includes record-breaking big wall free solo climber Alex Honnold."
Created in 1971, the Vail Symposium was conceived by community leaders to be a forum for discussions to help create a vision for the community. The weekend-long think tank attracted not only the majority of townsfolk, but also policy shapers from across the state and nation. Throughout the years the Symposium has diversified and expanded its scope with a dedication to timely, thought-provoking programs that have relevance to the community and world. This season's lineup reflects both that mission as well as the organization's commitment to growing and changing with the community it serves.
Hot Topics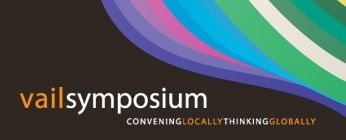 The Symposium's most recognizable series, Hot Topics features experts who speak about issues relevant to our community and the world.
"This season's Hot Topics lineup will present a diverse range of programming," said Vail Symposium Board member Rohn Robbins. "This timely series will provoke thought, impart practical skills, touch you deeply, and expand your mind."
The winter season kicks off with TEDxVailWomen's The Space Between on December 5. The Space Between attendees will hear powerful ideas from women and girls, talks from TEDxWomen 2012, and live talks from Sharon Shay Sloan, Andrea Lo, Shannon Galpin, Judith Landau, and Susie Kincade.
The Hot Topics series continues on January 10 with a panel discussion examining the mind of the mass murderer.
"Authors Jeff Kass, Katherine Ramsland, and Jeff Mariotte, all deeply steeped in the mysteries of what drive and motivate mass and serial killers, will share their insights," said Robbins. "Also included in this season's programming is a presentation from Rachel's Challenge (March 5), an organization which arose out of the Columbine disaster and which focuses on channeling students from violence and bullying to kindness, cooperation, and compassion."
This series also includes a panel discussion that will give valuable advice on real estate purchasing and financing (February 19), a discussion about the civil war in Syria led by Ambassador Christopher Hill (March 11), and a panel on health care reform (March 19), which will examine the Affordable Care Act from four unique points of view.
Living At Your Peak Health & Wellness Series
As the Vail Valley continues to grow as a world-renowned health and wellness destination, the Vail Symposium is committed to advancing education and awareness through programs and events that elevate that status. This series began this past summer with the inaugural Living At Your Peak summit and continues this winter.
"The Vail Symposium is proud to announce the first 2013 Living At Your Peak event on January 22 at the Donovan Pavilion," said Vail Symposium President and CEO Alby Segall. "Chris Crowley, best selling author of Younger Next Year, will be introducing his new book Thinner This Year. Following Mr. Crowley, the Vail Symposium's Living At Your Peak Series will continue through the fall of 2013 with the second annual Living At Your Peak Summit. Stay tuned for exact dates and location."
Speaking Locally and Unlimited Adventure
It is part of the mission of the Vail Symposium to offer affordable programs to the community; one way that is accomplished is through the Speaking Locally and Unlimited Adventure series, both of which are free.
The Speaking Locally series gives local leaders, athletes, and other prominent authorities and community members a platform to share their ideas and passions with an audience. This winter the Vail Symposium joins in Vail's 50th anniversary celebrations with a Speaking Locally panel comprised of Vail pioneers Rod Slifer, Elaine Kelton, and Merv Lapin, moderated by Terry Minger (February 28).
One of the winter's most loved series, Unlimited Adventure, returns for three Thursday nights throughout the season with a lineup of programs that won't disappoint, including big wall free solo climber extraordinaire Alex Honnold (January 17), sailor, photographer, and lifelong adventurer David Thoreson (January 31), and Shannon Galpin, who became the first woman to mountain bike in Afghanistan in 2009 and has been named one of National Geographic's 2013 Adventurers of the Year.
Art & Culture
On December 29 Georgetown University's premier co-ed a cappella group, the Phantoms, entertains for the evening with their repertoire of 50 plus rock, pop, and R&B songs. Following their vocal performance they will give a presentation on the a cappella tradition at Georgetown and explain how they arrange their own music.
Fundraisers
Support the Symposium by attending—or participating in—two fundraisers this season that emphasize the fun more than most.
First, SPiN Galactic returns to Vail on January 26 for a ping-pong tournament of epic proportions. SPiN is a galaxy of ping-pong social clubs created by owners Franck Raharinosy, Andrew Gordon, Jonathan Bricklin, and Academy Award-winning actress Susan Sarandon. The one-day tournament will be comprised of four tiers, and all ages and abilities are invited to enter.
On February 14 celebrate Valentine's Day with the Vail Symposium and Colorado Ski and Snowboard Museum in an evening honoring three of Vail's most famous pioneer couples. As Vail Turns will honor the colorful personalities of Rose and George Gillett, Janet and Paul Testwuide, and Sheika and Pepi Gramshammer in a 45-minute play written and performed by the Denver-based Curious Theater. The evening will benefit the Vail Symposium and the Colorado Ski and Snowboard Museum.
Signature Symposium Event
During the winter of 2011, the Vail Symposium made a concerted effort to begin raising the level of programming and identified one event per season as a signature event. These events bring the organization back to its roots with multi-day symposiums focusing on one key theme. This winter's lineup concludes April 5 & 6 with Beyond Winning and Losing, a signature event.
Presented in partnership with the Josef Korbel School of International Studies at the University of Denver, this two-day symposium will focus on the role of sport in promoting peace and fostering sustainable human and economic development worldwide and at the local level. Also presented in partnership with the Taste of Vail, attendees will have the opportunity to nourish their bodies as well as their minds with a variety of fine food tastings throughout the weekend.
"Beyond Winning and Losing: Sport as an Instrument for Peace and Development is a huge topic. As we spent time with our partners at DU, we realized how relevant it is to Vail during its auspicious 50 year anniversary," said Vail Symposium Advisory Council member and event champion Mike Losier. "Vail's founders helped skiing evolve from their experiences in the 10th Mountain division after World War Two. Their vision realized that skiing brings people together from all over the world. Beyond Winning and Losing will enable Vail to host an important event to discuss how sport has been and continues to be an agent of change."
Visit www.vailsymposium.com for a complete list of events and event dates, times and locations. Tickets to all events can also be purchased online. Become a Vail Symposium donor and you can receive email reminders about upcoming programs, newsletters, and discounted tickets to programs. Call 970.476.0954 for more information.
---

43 Comments on "Vail Symposium unveils its winter 2013 schedule"